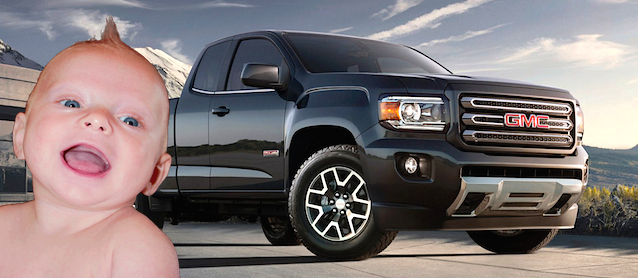 GMC just debuted a simple, yet innovative, fix to the rear backseat of its 2015 Canyon truck that's sure to appeal to families with infant children.
Anyone who's had to lug a baby seat around knows that in order to be installed properly, it needs to sit on at least 80% of a backseat's base cushion. The problem for truck owners — especially those who own extended cabs — is that automakers have shortened the bases of their rear seats to make room for adult passengers. This, unfortunately, makes it impossible to properly install a baby seat.
GMC's solution? Repurpose the backseat's headrest as a base-cushion extender. The automaker explains in a press release:
Using the rear jump seat headrest on the passenger side of the extended-cab Canyon, the jump seat cushion can be extended by removing the head rest and inserting it horizontally into the seat base. This helps the extended-cab Canyon satisfy the seat base recommendation of most child restraint manufacturers.
"It's an elegant solution that makes efficient use of the limited space in the rear seat in this type of vehicle, by allowing us to adapt the seat cushion length for child restraint installation," said Eduardo Bugelli, safety performance team lead. "The additional seat cushion length provides more support to the child restraint, which helps to reduce the rotation and the risk of injury in a crash."
The following video illustrates just how it works…
http://youtu.be/obA8gz_SCjc
I guess it goes to show, sometimes the best ideas are also the simplest.