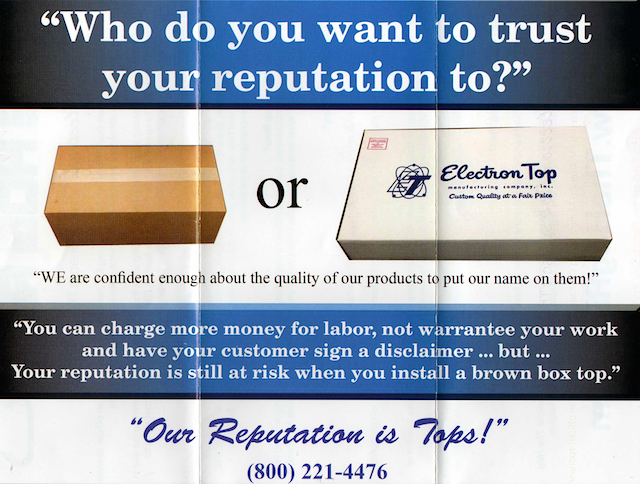 This month, Electron Top mailed the above flier to all of its customers asking one important question: "Who do you want to trust your reputation to?" In this new age of convertible top sales — where people can buy inferior, off-brand tops online for a fraction of the price — it's a question worth pondering. Especially if your shop has experienced an uptick in the number of customers who bring in their own tops for installation.
Also this month from Electron Top, Kimmy — office manager and author of the company's monthly newsletter "Keep in Touch!" — once again shows us they know the meaning of the term "family business." For Mother's Day, she dedicated last month's issue to her mother Kitty. For Father's Day, she dedicates this month's issue to her uncle Tom.
Kimmy explains:
We usually celebrate Father's Day in remembrance of our Dad but sometimes we are affected by men in our lives that although are not our fathers, they deserve the honor of being called a father. One of these men is our Uncle Tom, a very close friend of our family. I have known our Uncle Tom for most of my life and he is one of the kindest, talented and most thoughtful men I have ever known. He has been a ballast in my life and he never passes the opportunity to share his knowledge, experience, guidance and most treasured … his love.
To read more about Tom, as well as a poem Kimmy dedicated to him, download your free copy of "Keep in Touch!" by clicking here.
To learn more about Electron Top's quality products or to set up a business account, visit ElectronTop.com or call (800) 221-4476. Don't delay — it's convertible top season!