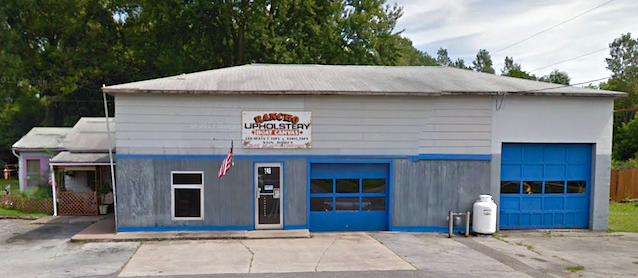 We highlight a lot of auto upholstery shops on The Hog Ring — but some of our most favorite are those run by old timers. They've been around, seen it all and have loads of tips, tricks and fun stories to share. Bob Monica, 77, of Rancho Upholstery in Geneva, NY is no different. Check out this profile of his shop in the Finger Lake Times.
For those familiar with the RayCo franchise, it's where Monica got his start:
Monica has been doing auto and boat upholstery, as well as convertible tops and canvas tops, for nearly 60 years. He started when he was 16; he's now 77.
Monica was born in Parishville, which is near Potsdam. After his family moved to Syracuse, he began working in a upholstery shop called RayCo, one in a chain of auto upholstery shops. He learned the business along the way. […]
"I used to do seat covers, but I don't do much of that anymore," he said. "Everyone wants new upholstery, and as long as I can still get the replicas of the original material, I can do it."
Monica especially enjoys working on older cars and trucks. He takes out scrapbooks full of photographs of the interiors and tops he's installed, showing everything from Model A Fords to modern-day Mustangs and Corvettes.
He describes himself as not rich, but says he makes a good living. Working alone, he takes his time and has earned a reputation as a meticulous craftsman. His calendar is full of scheduled jobs for the rest of the summer and into the fall.
Monica underwent quadruple heart bypass surgery around 2000 that slowed him a bit, but he's back to working full time.
He said he never lacks work.
"I used to advertise, but no more," he said. "I get my business from word of mouth.
"I'll keep going until I drop."
The profile continues with more on how Monica got his start, as well as his favorite types of projects to complete. Though his story is decades old, you'd be surprised how similar it is to many of ours. To read the profile in full, check out the Finger Lake Times.