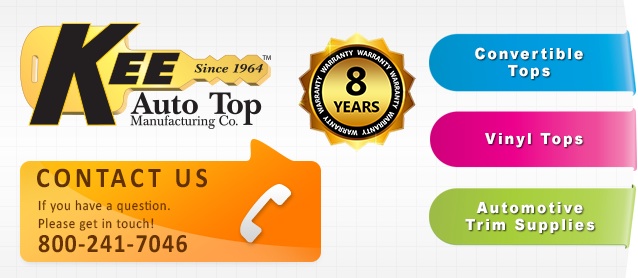 Whether you're installing a convertible top or vinyl top, Kee Auto Top has you covered! This month they're running a special promotion on both — and a whole lot more! Believe us, these aren't sales you want to miss.
Pick your promotion!
To begin with, Kee is letting auto trimmers pick their promotion! Choose between a complete convertible top set or three black/white vinyl tops and receive a STEEP discount.
While we can't tell you exactly how much you'll save, we can say this: It's significant enough for Kee to only offer one per invoice. So act fast! Call 800-241-7046 and ask for details. The promotion expires After August 31.
While you have Kee on the phone, ask about their 1994 – 2004 Mustang convertible tops that come with a new and improved tack line.
Also, don't forget to ask for Kee's new mini catalog — which features a complete list of convertible tops, vinyl tops and automotive trim supplies. For instance, did you know they also carry Weldwood adhesive?
Promote your shop!
Want a great way to promote your shop? Kee is collecting testimonials from auto trimmers who've installed their convertible or vinyl tops. Simply send an email to info@keeautotop.com telling them what you think of their products and include a photo of a Kee top you've installed. It could end up in a company advertisement — how cool is that?
For more details, check out Kee's August newsletter below!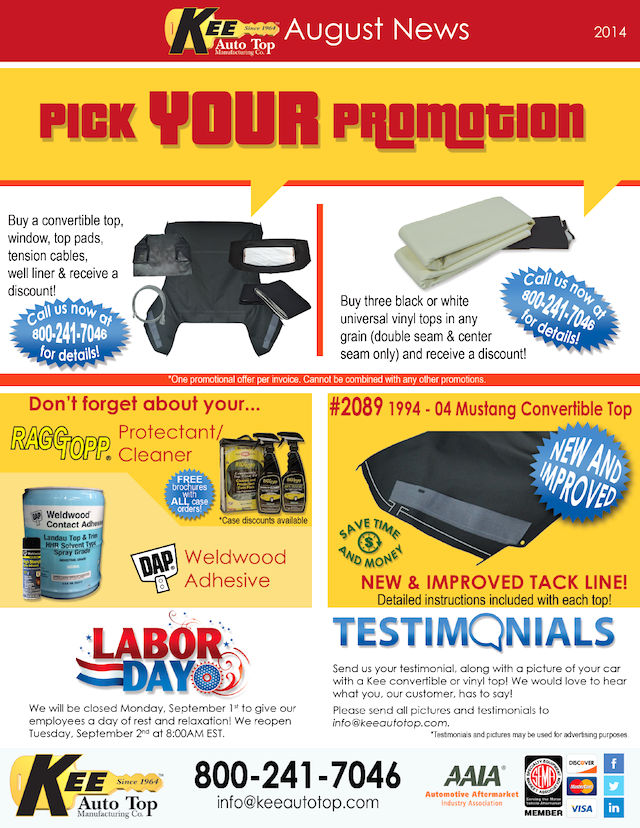 If you haven't already, make sure to follow Kee Auto Top on Facebook and Twitter — where you can learn more about the company, it's fantastic products and stay on top of all their latest sales and promotions.
For additional information on Kee Auto Top's products, visit KeeAutoTop.com or give them a call at (800) 241-7046.