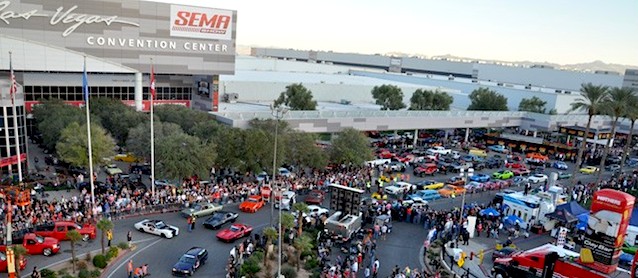 The 2014 SEMA Show is less than three months away. As you make final preparations to showcase your products and services, tune in to SEMA's free online seminar — today at 10:00 am PDT / 1:00 pm EDT — hosted by show director Tom Gattuso. It'll tell you everything you need to know for a successful showcase.
SEMA explains:
Exhibiting at the SEMA Show takes preparation, and there are a number of details that may not occur to a first-timer until just a few weeks before the doors open. Discover the most efficient way to prepare for the 2014 SEMA Show and manage your booth space. On Wednesday, August 20, at 10:00 a.m. (PDT), Show Director Tom Gattuso will present a free comprehensive webinar that will guide exhibitors through everything from basic setup to little-known tips on getting the best return for your SEMA Show investment. Participation requires only a computer and an Internet connection.
This webinar will thoroughly cover the online exhibitor manual, Show hours, frequently asked questions, booking hotels, where to park, using press releases and other means to promote a booth, publicizing celebrity appearances and using the online exhibitor directory to bring buyers to your space.
Best of all, this webinar is free. This is must-have information for exhibitors. Participate live or download the webinar when it's convenient. Simply visit the SEMA webinars page to register for "Exhibitor Series – Are You Prepared for the SEMA Show? Webinar for First-Timers (and Veterans)" and take advantage of this informative session.
While you're at it, check out The Hog Ring's coverage of SEMA 2013 — and look out for us at this year's event!