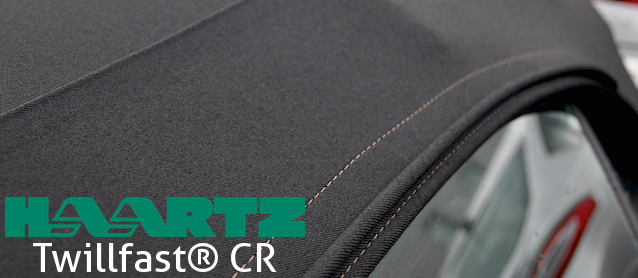 Haartz Corporation, the world's leading supplier of automotive topping fabrics, recently introduced a new soft-top convertible material that every industry manufacturer, supplier and trimmer should know about: Twillfast CR.
The new OEM convertible topping material, which joins Haartz's extensive line of convertible fabrics, is designed to meet the demand for a convertible top that doesn't show unsightly creases after being stowed for long periods of time.
Matt Williams, director of business development for Haartz, explains:
"Twillfast CR shares many of the same properties as our Twillfast RPC material. Unique to CR is that it has improved aesthetics following closing after the roof has been stowed for extended periods of time. This product will help minimize the appearance of crease marks on the top and help maintain a high level of customer satisfaction with their soft-top"
Similar to Twillfast RPC, the new Twillfast CR features an acoustically enhanced 3-ply topping with acrylic twill weave facing, rubber inner-layer and Polyester dobby backing. The primary difference is that Twillfast CR utilizes a cease-resistant butyl rubber for its inner-layer.
Look out for Twillfast CR, as well as Haartz's full line of automotive topping fabrics. Through continued innovation, Haartz is revolutionizing the auto top industry.
For more on Haartz's Twillfast line, visit Haartz.com.