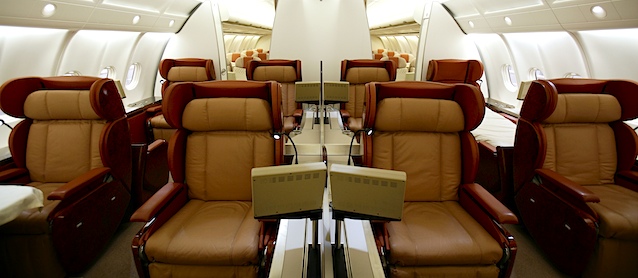 Auto upholstery shops produce a lot of waste — including scrap foam, vinyl, cloth, canvas and leather. While most of it is recyclable, the sad truth is that most of our scraps end up in the trash. Not because auto trimmers aren't Earth friendly, but because our industry lacks the infrastructure to collect and process the materials in any meaningful way.
Southwest Airlines recently faced a similar problem. Upon upgrading all of its 747 aircrafts with new upholstery, the company found itself with an excess of 80,000 old leather seat covers. Being a multi-million-dollar company, Southwest Airlines had the resources to research and coordinate ways in which it could have the covers recycled. But since it was going to all that trouble, the company figured: Why not do something more inspiring?
"We had this idea of 'could we do something with this leather beyond recycling it or shredding it? Could we repurpose it?'" says Marilee McInnis, the airline's senior manager of culture and communications.
Southwest dubbed the initiative "Luv Seat: Repurpose with Purpose," and reached out to potential partners to take the used leather, but found that there were few takers.
"It's awesome to have a great idea, but you have to have support for those — quote-unquote — great ideas. I worked with our green team for nine months to find a use for the leather. It's actually much harder than you think it would be," says McInnis.
Following the advice of Bill Tiffany, a Southwest VP who grew up in Kenya, the airline started looking toward Africa for recipients of the used leather. Rather than just donating the goods and leaving it there, the airline decided to take a more holistic approach, giving the materials to NGOs that will use them to provide job training and health education.
The main partner is SOS Children's Villages Kenya, which is providing paid apprenticeships and training to orphaned children, who in turn make shoes and soccer balls from the leather. The shoes are given to Maasai Treads, who distributes them as part of a campaign to fight debilitating foot parasites. The soccer balls are donated to Alive & Kicking, a charity that uses sport to educate young people on HIV/AIDS and malaria prevention.
"It's really easy to donate and walk away. We didn't want to do that. The leather is finite, but the skills these young people will learn will hopefully take them through their lives," says McInnis. [read more]
Of course, auto upholstery shops don't have the time or money to launch global initiatives like "Luv Seat: Repurpose with Purpose" — but automakers and some industry manufacturers do. Heck, they don't even have to go the altruistic route. It would be great just to have a program that collected and shredded scraps for use as insulation or stuffing. Literally anything would be better than dumping more trash in landfills.
If anyone in The Hog Ring community knows of such a program, please email info@thehogring.com to let us know. We'd be happy to spread the word.