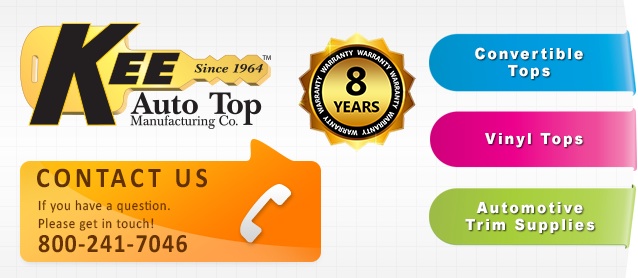 Kee Auto Top continues to shake things up with more great products, discounts and the highest level of customer service. What's more, everyone – from trimmers to community leaders – are taking notice.
In fact, U.S. Senator Richard Burr recently paid a visit to Kee Auto Top's headquarters in Charlotte, NC, where he toured their factory and reiterated his support for the automotive industry. Burr is one of the senators responsible for the recent passage of Resolution 493, which designates July 11 as "Collector Car Appreciation Day."
Noting the visit in its September newsletter, Kee Auto Top wrote:
"We thank the U.S. Senate for its continued recognition of the collector car hobby as an American tradition and pastime. The Senator is a strong advocate for the automotive hobby/industry in Washington. Thanks Senator Burr from the Kee team!"
New this month to Kee Auto Top's impressive lineup of quality drop tops is a 1996-2002 BMW Z-3 soft top — now with rain gutters!
That's not all! This month only, Kee Auto Top is offering shops a sizable discount on any Miata top – OR – any Miata top with original-style rain gutters.
The choice is yours, but you'll need to act fast to take advantage of the promotion. Call Kee Auto Top at 1-800-241-7046 to find out just how much you'll save!
Lastly, if your shop is based in North Carolina, make sure to stop by Kee Auto Top's booth at the Charlotte Auto Fair on Sept. 18-20 at Charlotte Motor Speedway. The Kee team will be on hand to chat, show you their latest products and help you set up a business account.
For more details, check out Kee Auto Top's September newsletter below: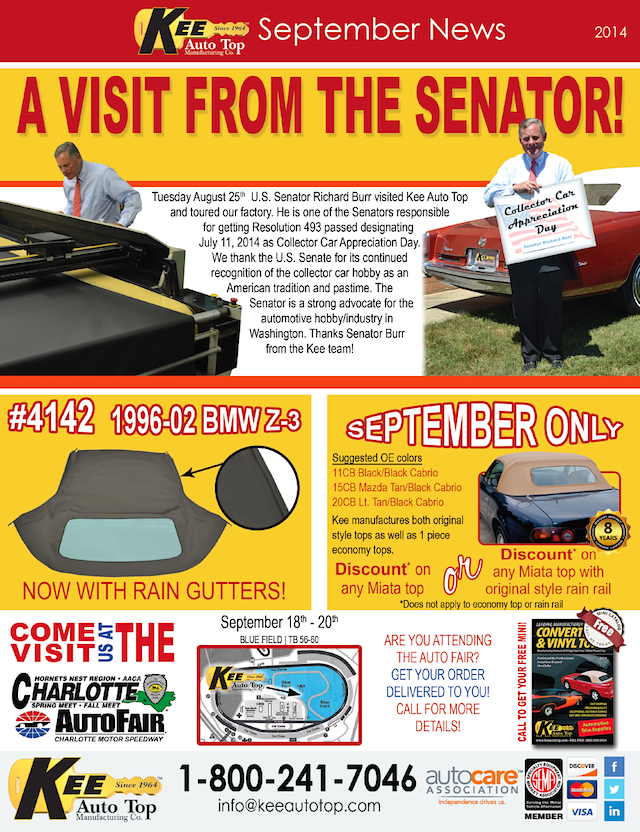 If you haven't already, make sure to follow Kee Auto Top on Facebook and Twitter — where you can learn more about the company, their fantastic products and stay on top of the latest sales and promotions.
For additional information on Kee Auto Top's products, visit KeeAutoTop.com or give them a call at (800) 241-7046. While you have them on the phone, ask for a free copy of their new mini catalog!