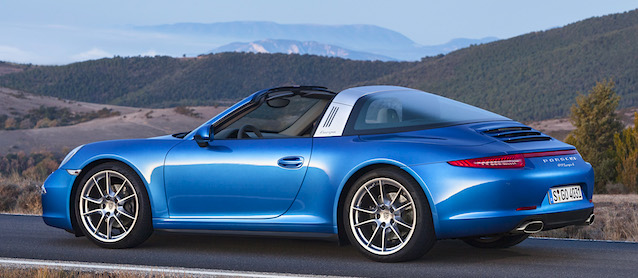 In 1965, Porsche reinvented the traditional convertible top with the 911 Targa — which featured a semi-convertible body style with a removable roof section and a full-width roll bar behind the seats.
The vehicle, which was dubbed the world's first "safety cabriolet," received much fanfare and quickly rose to icon status. While the Targa top has since gone through several stylistic and functional changes, it remains popular among auto enthusiasts.
Now, 50 years later, Porsche is recasting the Targa top with a jaw-dropping modern design that pays tribute to its storied past.
Porsche explains:
The Targa roof system has always been an unmistakable hallmark of the 911 model. The new 911 Targa continues this tradition with an innovative roof concept.
The roof is made up of two movable parts: a soft top and a glass rear window. The rear window, which is attached to the convertible top, is opened and tilted rearward at the push of a button. At the same time, two flaps open in the Targa bar, releasing the soft top's kinematics.
The convertible top is released, folded into a Z-shape as the roof opens and stowed away behind the rear seats. Once the top has been stowed, the flaps in the bar and the rear window close once again. The roof takes around 19 seconds to open or close while the vehicle is stationary.
A wind deflector integrated in the windshield frame can be erected manually when the top is down. This deflector reduces wind and buffeting in the interior for the driver and passenger. [read more]
If you think that sounds impressive, wait until you see it in action:
Here's a closer look at exactly how it works:
To me, the latest incarnation of the 911 Targa is a stunning work of art. The fit, finish and functionality of the new automated top is an impressive feet of engineering.
As each year passes, automakers continue to up the ante of their soft tops — and every innovation seems to be better than the last. The result has been both fascinating and worrisome. While the tops are increasingly impressive, they also pose a number of challenges to trimmers who must learn how to repair their intricate mechanisms, replace their cloth tops and troubleshoot leaks.
Then again, I suppose that's what keeps our craft so interesting.