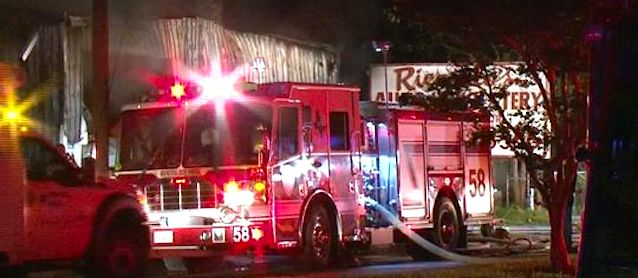 Ricardo's Auto Upholstery in Houston, Texas, experienced a devastating fire last Thursday that resulted in the shop's roof collapsing and a firefighter needing to be treated for smoke inhalation.
Arson investigators aren't sure what caused the blaze, but suspect fuel and other flammable objects set off a small explosion that quickly spread throughout the building. Local news station KHOU reported:
Firefighters said they responded to Ricardo's Auto Upholstery and found heavy flames shooting from inside the building. There were about a dozen cars inside the shop, making it difficult to stop the blaze.
The roof collapsed, destroying the business, but firefighters managed to keep it from spreading to nearby buildings. [read more]
Fortunately the injured firefighter is expected to make a full recovery. However, the future of Ricardo's Auto Upholstery remains in question.
Sadly, in this industry — where keeping flammable chemicals and materials in inventory is necessary — fire is always a risk. However, you can limit the danger and damages by storing combustable items properly, ensuring that your building is up to code and never allowing your insurance policy to lapse.
For more tips, read "Guarding Your Shop From Natural Disasters." It provides some helpful advice on how to limit your losses in the event of a fire.