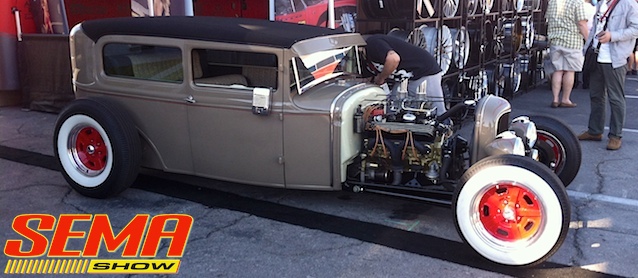 Having caught up with nearly everyone we set out to meet, we spent day four of the 2014 SEMA Show roaming the outdoor car show and snapping photos of interiors that caught our eyes.
Like any car show, the vehicles featured at SEMA ran the gamut of car interiors. While some were exquisitely trimmed, others were either bland or botched. It was clear that too many car enthusiasts are still blowing their budgets on performance, paint and flashy accessories at the expense of quality, handcrafted interiors.
Still, there was reason to be optimistic. In addition to the many gifted craftsmen and entrepreneurs we met who are driving the auto upholstery industry forward, there was an air among the crowd that too many of the cars looked alike, and that perhaps it was time to start looking beyond body and mechanics to differentiate them.
This was most evident in the number of show-goers snapping photos of car interiors and carefully scrutinizing the fit and finish of each one. Over and over again, I overheard folks requesting windows to be lowered and doors unlocked so they could snap photos of cabins. When the requests weren't heeded, or the interiors didn't meet their standards, they balked with dissatisfaction.
Meanwhile, on the convention floor, attendees flocked to booths by Alea Leather, Distinctive Industries, Restomod Air and other companies who specialize in vehicle interiors — asking about new products and snapping photos of those on display. Sometimes the crowds were so large, we couldn't ask questions ourselves.
Combined, these events left us hopeful that car interiors are making a comeback — and in a major way!