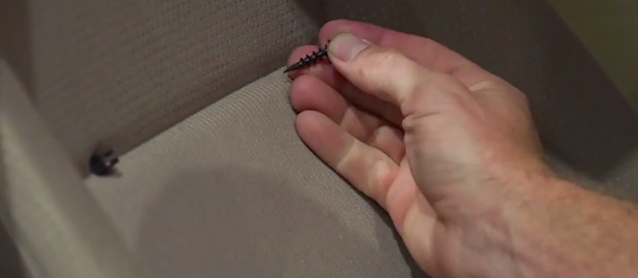 Thousands of automotive aftermarket manufacturers displayed their latest products earlier this month at the 2014 SEMA Show in Las Vegas, Nevada. While most exhibitors showed off new, innovative and impressive designs, there were a few that left me wondering: "What the hell are they thinking?"
One of those companies, Dubai-based NSV, was promoting a protective vehicle seat cover that ironically ruins the upholstery it's meant to safeguard.
Auto upholsterers know that protective slip-over seat covers never fit as snug as original upholstery because there are no listings to hold their insert panels down on the foam. NSV attempted to solve this problem by sewing listings onto their covers that attach to plastic clips that screw straight through the seams of the original upholstery and into the foam.
I asked a company representative at NSV's booth what sort of damage this causes to the original upholstery. He assured me that it was harmless, and even unscrewed one of the clips to prove it. Unfortunately for him, once the screw was removed the damage to the upholstery's seam was immediately obvious. The thread was pulled, stretched and noticeably weakened. And that was just in one spot — the display seat he showed me had eight plastic screws in the base cushion alone!
Check out the following video demonstration of how the clips work:
Now I don't like to bad mouth any company, and to be fair some of the other products NSV offers are pretty decent. However, someone really dropped the ball on the design of these slip-on seat covers. It's a shame too, because aside from the mounting system they looked and felt pretty good.
My recommendation to anyone who buys these NSV slip-on seat covers is to forget the listings and just slide them on.