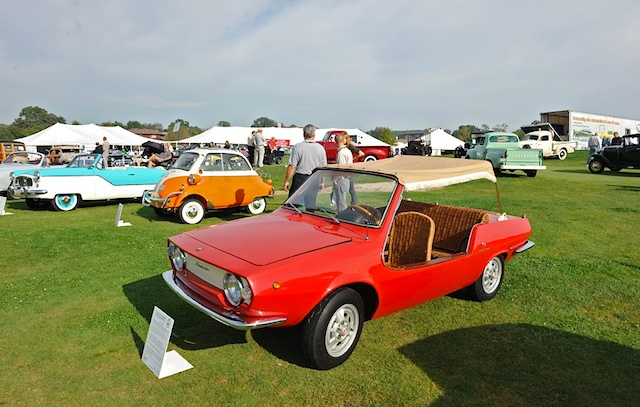 In 1971, renown Italian sports car designer Giovanni Michelotti collaborated with yacht builder Philip Schell to redesign a Fiat 850 to serve as a beach car — which they aptly named the Shellette.
Keeping with the beach theme, the Shellette was outfitted with a wicker dashboard and seats, as that was the go-to material for constructing beach furniture at the time. While the car was said to operate smoothly, it was a holiday vehicle that appealed more so to the rich than the general public. As such, only 80 were ever built and only 10 are known to exist today. Among the owners of this rare car were the Dutch royal family and Jacqueline Onassis.
As impractical (or uncomfortable) as wicker upholstery sounds, it's not the worst idea for a beach car. In 2011, Swiss automaker Rinspeed debuted its BamBoo electric concept car, which featured inflatable upholstery. However, our all-time favorite is the 1989 Pontiac Stinger. It came equipped with car seats that doubled as beach chairs and were trimmed in wet-suit fabric.
What will they think of next?
Below are a few shots of the 1971 Fiat Shellette's wicker interior: