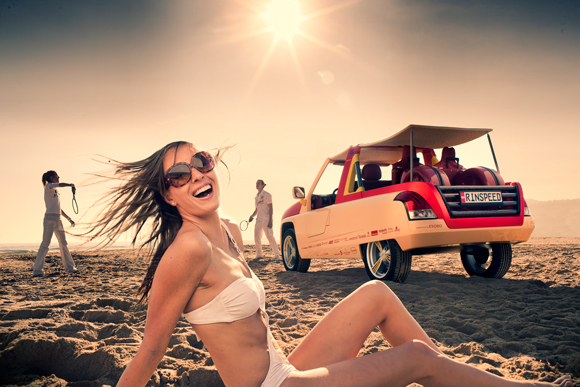 If Swiss design company Rinspeed Inc. has its way, auto trimmers will soon be repairing cigarettes burns with Scotch tape, not a needle and thread. That's because Frank Rinderknecht, the firm's founder and CEO, is set to debut his all-new Rinspeed BamBoo electric concept car – which features inflatable upholstery – at next month's 2011 Geneva Motor Show.
Described by Rinspeed Inc. as an "Open Speedster for the Extroverted Communicator," the unique (if not odd-looking) BamBoo features inflatable rear seats, as well as an inflatable canopy roof that detaches and doubles as a beach mattress. (the blowup rear seats detach as well)
Innovative? Yes. Strange? Sort of. Stupid? Quite possibly. Then again, Rinderknecht is highly regarded as a visionary within the field of auto design.
According to Rinspeed Inc., the canopy-like roof, which was developed in association with Swiss company Tecnotex, is waterproof and helps protect interior fabrics (made from the threads of bamboo fiber) from the elements. More interesting, though, is that "[n]othing but air lends the two-piece waterproof design its rigidity."
The BamBoo, however, is no powerhouse. It runs on electricity, generates 72 horsepower, has a top speed of 74 mph and putters from 0 to 30 mph in a lazy 4.7 seconds. It does have a range of 65 miles though – which is probably enough for a day of beach cruising.
Clearly, the BamBoo focuses more on design than performance. In fact, inflatable upholstery is just one of its many bizarre innovations. The BamBoo also features a Swiss Army knife that doubles as its key, as well as "Identiface" – a display screen front grill that, like a Facebook status update, let's passersby know how you're feeling: "I am single," "I am in a party mood" or "I need a break."
Me? I'm just… uh bamboozled.