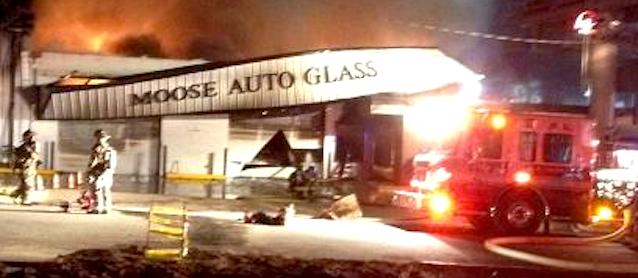 Every time we write about an auto upholstery shop that's destroyed in a fire, we end our article with a sincere hope that its owners have the will, means and support to rebuild and come back bigger and better than ever before. We're happy to report that Moose Auto Glass of Tyler, Texas, did just that!
After 60 years in the business of repairing auto glass and upholstery, the Moose family's shop fell victim to a massive fire in January that consumed their entire building — incinerating all their records, tools, inventory and 11 cars.
The situation looked bleak, especially for the 10 families who depend on Moose Auto Glass for their livelihoods.
But as fate would have it, the Tyler community had grown quite fond of the shop and wasn't ready to see it go. Throughout the year, family, friends, loyal customers and even neighboring business owners rolled up their sleeves to help the Moose family rebuild. Together, for 11 months, they labored intensively. And finally, on Nov. 15, celebrated its grand reopening.
The story of Moose Auto Glass, published in the Tyler Morning Telegraph, is one of hard work and resilience, as well as the power of community.
Here's an excerpt:
"I remember going home that night and thinking, 'We have 10 families who live out of this business. What are these people going to do?'" owner Jacquelyn Moose said. "What are we going to do about them, not only what are we going to do (about us)?"
Following the fire, the Moose family grew closer as local businesses and longtime customers reached out to the family, and the staff pulled together to keep things going. […]
After the fire, drivers stopped to shake Eddie Moose's hand, and customers never quit being loyal.
The owners bought Tracfones and transferred the business lines to them the next day and immediately found a temporary location to set up shop while the family decided exactly how to rebuild and proceed.
Mrs. Moose said that first day they had no pens, paper, computer programs or credit card machines. They started taking in work and had to figure out how to bill for it later.
"It was amazing how many people came to help," Mrs. Moose said. "They swept floors and helped us open up. We are very, very blessed, but I'm just glad it's behind us."
After months of planning and weighing options, Moose Auto Glass decided to come home to their spot on Timms Street. […]
The new building is slightly smaller than the old one, but it's more economical and has a parking lot, a first for the location. […]
The family threw a party Saturday to thank their loyal customers and friends. It was complete with their first ribbon cutting as well as food and entertainment.
"Trying to decide what to do was a big deal for us," Mrs. Moose said. "We looked at building and buying something else, and had this (building) sold at one point, but then we said, 'Let's go home. It's where we started. 'Let's go home.'" [read more]
To read the full story, check out "Longtime Tyler business celebrates reopening after fire" — you'll be happy you did.
Congratulations Moose Auto Glass. You're an inspiration to us all!