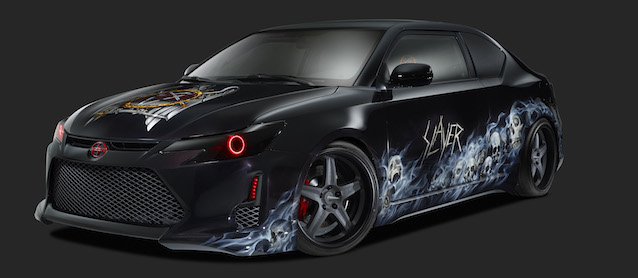 Riley Hawk's 70s themed Xb wasn't the only celebrity Scion featured at the 2014 SEMA Show — get a load of this custom 2014 tC built for the heavy metal band Slayer. It's basically an amplifier on wheels.
Dubbed the "Scion x Slayer Mobile Amp tC," this mean machine features a custom paint job, suicide doors, and billet Slayer sword blade wheels. However, where things really rock is on the inside. Scion explains:
Frequently cited for its deep influence on other metal bands, Slayer has a look, sound and approach all its own. The band's aggressive style carries into the tC sports coupe's exterior look and band-inspired details. Inside, the vehicle has been transformed into a multimedia machine with amps, towers of speakers, a custom mixer and a 32-inch monitor for media playback. […]
"Slayer's fans are going to be excited when we reveal what a metal-inspired Scion tC looks like," Slayer guitarist Kerry King said. "Working with Scion has given us another way to reach new audiences and inspire them to keep going down their own paths."
The sound system – which allows you to plug in a guitar and microphone – and other electronic components are awesome. But what appealed to me the most about this tC were its seats. Not only do they feature bold slayer logos embroidered on the headrests, but their insert panels are trimmed in amplifier grill cloth. They even dawn Marshall emblems to really pull off that authentic amplifier look.
What's more, the cabin is decked out in candy apple red painted accents, Slayer emblem door inserts, skull shifter and parking break lever and custom lighting.
Check it out…