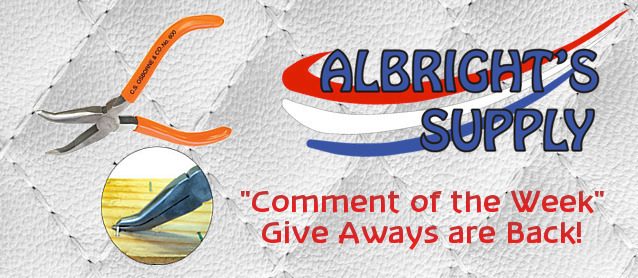 GUESS WHAT?!? The Hog Ring's "Comment of the Week" give aways are back for 2015! And our first contest is being sponsored by Albright's Supply, home to everything you need to get the job done. Up for grabs this week is a C.S. Osborne forged steel staple puller and 10 yards of bright white smooth-grain vinyl — that's a $100 value!
Want to win? The rules are simple. Read any article or forum thread (new or old) on The Hog Ring and leave a comment. At the end of the week our editors will choose the trimmer who left the best comment, and send him/her the prizes!
What makes a comment the best? It could be anything that adds value to our auto upholstery community. We're particularly fond of comments that offer help, advice or constructive criticism. Smart and witty ones are great too! Basically, we want to reward folks that help make this site the awesome resource that it is.
Special thanks to Albright's Supply for sponsoring this give away. Specializing in automotive and marine trim, Albright's Supply has one of the largest inventories in the United States and a network that extends throughout the country. They're known and trusted throughout the upholstery industry for providing outstanding value and superior customer service. In fact, Albright's Supply will often go out of their way to find customers trim products they don't carry, and even provide free shipping on all orders of $150 or more.
To learn more about Albright's Supply, visit AlbrightsSupply.com or call (662) 287-1451. Also, keep your eyes on The Hog Ring, where we frequently feature their latest sales and promotions.