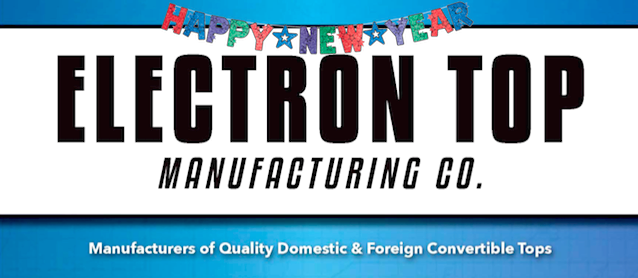 Always a class act, Electron Top dedicated its first "Keep in Touch!" newsletter of 2015 to wishing the auto upholstery community a Happy New Year, and providing a bit of inspiration for us to lean on.
"A very Happy New Year to all," writes Kimmy, Electron Top's office manager. "WE hope you all had a wonderful holiday, full of joy, happiness and good health."
She continues by sharing a few thoughts on resolutions, and why it's never too early or too late to set one:
Every one of us has the ability and strength to change those things that WE are inspired to. WE don't need a new day, a new year, a new outfit or a new piece of equipment. All WE need is a new thought. So many of us get so caught up in the whirlwind of activity that WE now call "Life", that WE forget to think, and when WE stop thinking WE lose sight of our inspiration. WE all are a perfect creation and each one of us has the ability to conquer all of our challenges and obtain all of our desires. It's an old cliche but a good one, "There is no better time than the present.
Kimmy's words are accompanied by a list of powerful thoughts and quotes for the New Year — including this one: "If you don't sell your reputation to your customer they will have no other option but to compare your price."
What we love most about Electron Top is that they're a family business dedicated to forging strong relationships that empower trimmers. They're also always thinking of ways to put us little guys first, even if it means taking a hit. The fact that their convertible tops and other products are of the highest quality is icing on the cake.
Check out their January 2015 newsletter: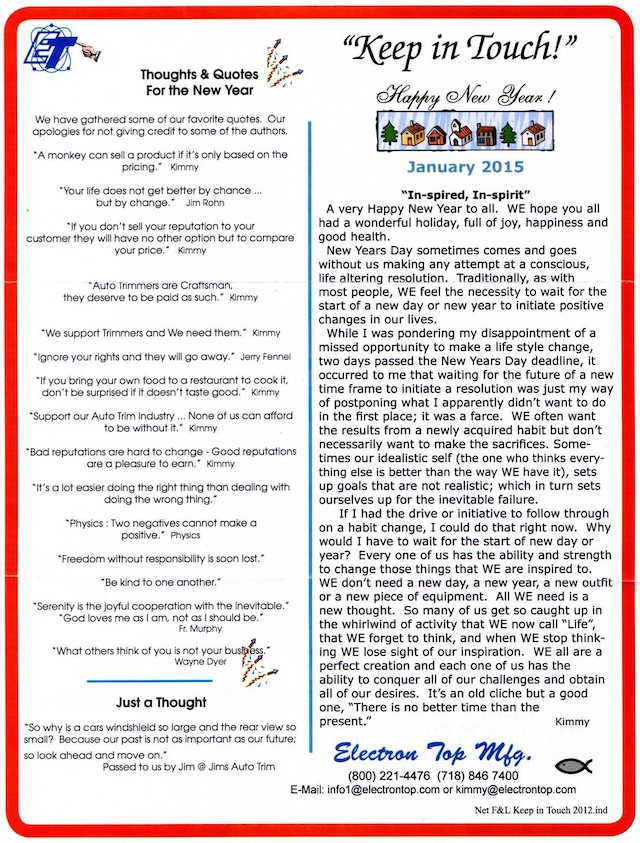 To learn more about Electron Top's quality products or to set up a business account, visit ElectronTop.com or call (800) 221-4476.