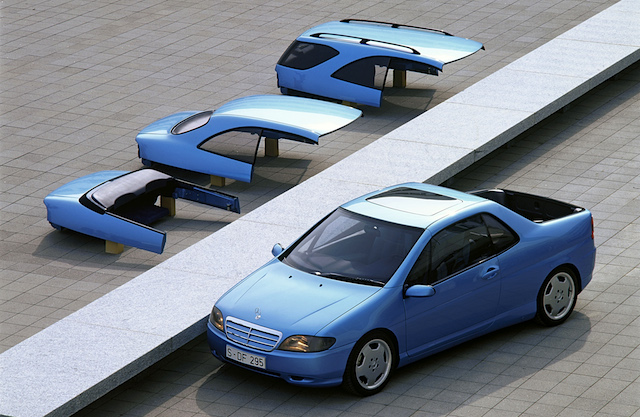 In 1995, Mercedes-Benz sought to revolutionize the convertible top industry with the introduction of its Vario Research Car (VRC) — a concept vehicle that not only converted from a coupé to a convertible, but a truck and station wagon as well.
Mercedes-Benz touted the VRC as the ultimate utility vehicle. Drivers no longer had to choose between buying a single, sometimes-impractical body style or an entire fleet of cars. With the VRC, they could have the best of all worlds.
In theory, the VRC was an outstanding idea. But when it came down to converting body styles, it actually wasn't all that practical. Car Design News explains:
Based on a 2-door platform with four seats, it can be a coupé, a wagon, a pick-up or a convertible thanks to interchangeable modules. The customer would not actually do it himself. They would not even own the modules. Instead they would drive to a rental station where technicians would do the transformation for them in just 15 minutes. The modules are lowered onto the chassis, electric motors pull it into its final position and special locks and strong solenoids keep it in place at eight attachment points. A central connector assures the electrical communication between the platform and the module. [read more]
For the VRC to take off, Mercedes-Benz needed to convince car buyers that having their vehicles regularly serviced was less of a hassle than making do with a traditional, non-variable body style. Moreover, dealer shops needed to be trained on converting vehicles and find a place to store all those bulky modules.
In the end, the VRC never made it to production and automakers sought to meet drivers' needs for multi-purpose vehicles with new segments like crossovers. Still, you have to give Mercedes-Benz credit for having the courage and creativity to think outside the box.
The idea of owning four different types of vehicles while only having to purchase one is brilliant. Mercedes-Benz pushed the concept of a convertible to the extreme. Hopefully, one day, it'll rehash the idea and perfect it.
For photos, check out the following video (but mute it if you're not into awful techno music).