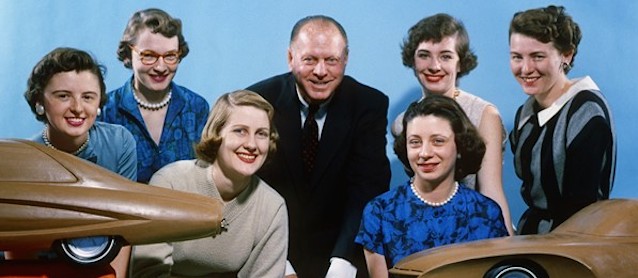 The automotive interior industry is dominated by men, but women have long played an integral role in its growth and development. In fact, they've been influential as industrial sewing machine operators, auto upholsterers, business owners, textile innovators and even cabin designers.
Fastlane, an automotive blog run by General Motors, recently published an interesting piece revealing how women helped shape modern car interiors — making them more appealing, practical and safe. The article is a must-read for everyone in the industry.
Below is an excerpt:
In 1943, Harley Earl, GM's legendary Chief of Design, hired Helene Rother as a designer on the interior styling staff. Rother, who focused on upholstery colors and fabrics, lighting and door hardware, was the industry's first female auto designer.
As the American economy improved after WWII, Earl realized women were playing a larger role in the automotive marketplace. Women were increasingly responsible for and involved in auto purchases, with some estimates showing them as having the final say in up to 75 percent of decisions.
Earl had a longstanding relationship with many art and design schools, and he began to recruit female industrial design students. This group of women, sometimes referred to as the "Damsels of Design," worked for a variety of marques at the GM Tech Center and focused primarily on interior styling. By 1956, GM had 11 female designers on staff.
Earl and other GM designers were immediately impressed by the new perspective the female stylists brought to the studio.
"They prove conclusively that women have established a real toe-hold in automotive designing and that they have a limitless future," said Earl in 1958. "The skilled feminine hands helping to shape our cars of tomorrow are worthy representatives of American women." […]
Along with stunningly detailed interiors and custom hardware, the designers proposed ideas that would lead to improved safety, including retractable seat belts and open door warning lights. The women also focused heavily on storage in the vehicles, and included a variety of compartments for umbrellas, maps, cameras and even picnic supplies.
To read the full article, see "Designing Women." Also, check out the "Industry History" section of The Hog Ring for more stories from our shared past.