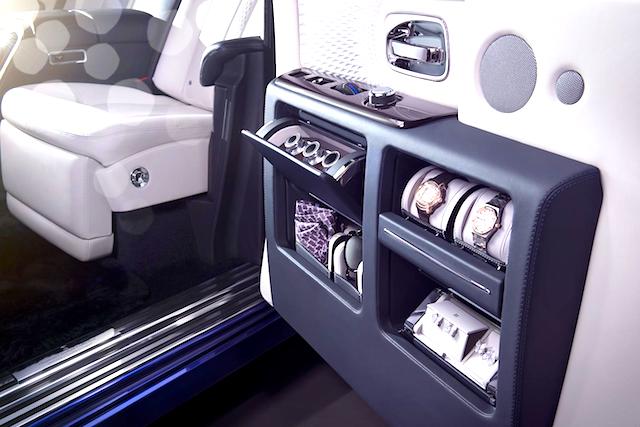 Rolls-Royce Motor Cars is renown for its over-the-top luxury interiors, and the new Phantom Limelight is no exception. Among its long list of bourgie accruements, the limited-run bespoke sedan features his and her door panel wardrobes.
Of course, Rolls-Royce calls them "panniers" because that sounds more fancy, but they're basically just door panel closets where you can store really expensive things like designer watches, cufflinks and ties.
In a press release, Rolls-Royce explains:
They [Rolls-Royce's designers] have created the "Phantom Suite" comprising unique personalized rear door panniers to ensure cherished personal possessions fall easily to hand for preparing for the next engagement, and a new luxury seating configuration in which to relax in before arriving.
The Ladies' and the Gentleman's panniers can also be personalized to suit what particular personal possessions are required for the occasion.
In the standard configuration, the Concealed Fragrance Holder for three individual fragrances is located in the top left pocket of the Ladies' pannier whilst in the Gentlemen's pannier the concealed section holds watches. The concealed panel opens at an effortless push of the hand.
The top right pocket, which is open, contains the fragrance bottles in the Gentlemen's pannier whilst in the Ladies' are two watch or jewelry holders.
The fragrance bottles, which ensure the passenger always has the right fragrance available to them whatever the time of day, are handmade in the famous Bresle Valley in North West France ­– home to 75% of the world's luxury bottles for perfumes and spirits.
The bottom left pocket houses a universal vanity pouch made of the finest materials, with space for credit cards, business cards, spectacle storage or makeup, whilst Ladies' and Gentleman's Accessory Z-Boxes, constructed from carbon fibre, milled in aluminum and hand covered in the finest leathers, complete the door pannier.
So what's a car with door panel "panniers" cost? Oh, just $650,000. To see more photos of exactly what you'd be paying for, check out The Verge.