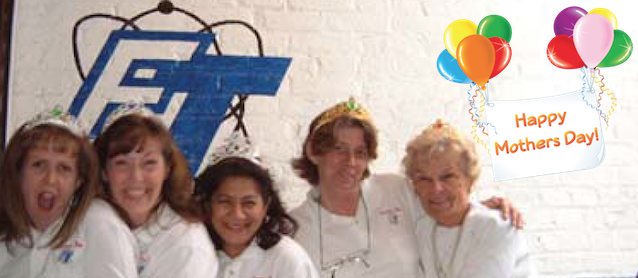 Behind a lot of great auto upholstery shops there's a mom holding things together. For that reason, Electron Top used their May issue of "Keep in Touch!" to wish every mom in the industry a very happy Mother's Day.
As most of you know, Catherine "Kitty" Strauss, loving matriarch of the Electron Top family, passed away late last year. Though this isn't an easy time for friends and family, daughter Kimmy channels the loss into love…
For most of us here at Electron Top, Mother's Day has become a day of remembrance rather than a day of celebrating. WE have been so very blessed to have had a Mother that was a pillar of strength and vision of love.
Most Mothers are special and in the very least WE can be grateful for the sacrifices made for the 9 months they endured whilst carrying us.
Happy Mothers Day to all the moms not just on this day but always.
This month's newsletter also features loads of helpful product news.
Under the title "Important Note," Electron Top informs customers that in order for them to manufacture tops for the 2003-2009 Audi A4 and S4 Cabriolet, you will need to send them the original window brackets. Understanding that's not always convenient for trimmers or customers, Electron Top offers two fantastic options that make the process simple and easy. Checkout the newsletter below for details.
You know what they say about one man's trash being another man's treasure? Electron Top would like customers to know that they offer account credit for original tops, headliners, pads and wells. As such, they're currently seeking an original top for a 2010-2013 Nissan 370Z. Your contribution will help them improve their products.
Lastly, Electron Top advises that trimmers update their catalogs to reflect a price change on 2004-2009 Nissan 350Z cables — which have increased to $225 list.
Of course, what issue of "Keep in Touch!" would be complete without an inspiring quote or poem? This month's newsletter features both, so check them out!
null
To learn more about Electron Top's quality products or to set up a business account, visit ElectronTop.com or call (800) 221-4476.