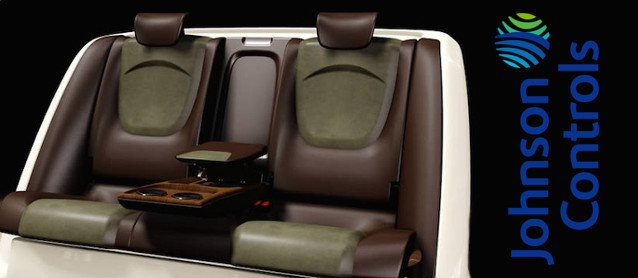 Johnson Controls, one of the world's largest suppliers of vehicle interiors, recently unveiled a luxury rear seat it says combines the expressed needs of customers and automakers in one — but we just think it's cool.
The Synergy Seat Loft is thin, light weight, folds both up and down to provide versatile cargo capacity and offers a host of additional cool features. Here's a rundown:
Maximized leg room and storage space by using thinner seats made with Super Resilient Foam (SuRF). This foam reduces thickness, while optimizing comfort requirements
A "Connectivity Console" that provides a multi-level comfort and storage solution with wireless charging USB ports and unique telescoping cup holders
Stadium seat cushion and fold-flat seat back options that allow unique reconfigurable long- and short-term hidden storage for increased security for purses and laptop computers
Thin head restraints made using new construction methods, so they're lighter while also meeting required safety standards
Sedan-style seatbacks that recline to create a more comfortable passenger space
The seat is mounted to a cross-car beam that enables increased functionality, safety and installation options. It allows for simplified drop-in-place seating integration which not only minimizes assembly for the OEM, but also be cost effective and offer expanded uses
Unique use of luxury materials, including felt, leather, wood, metal and woven flooring and panels
This unique rear seat isn't yet featured in any cars, but Johnson Controls believes it soon will be. That's because it combines a host of features that drivers want with the "product cost and functional expectations" OEMs demand — hence the name, Synergy.
"The team understood that for Synergy to be a success, it required understanding the consumer, the OEM and our product portfolio," explained Dalibor Dimovski, senior industrial designer.
All in all, Synergy Seat Loft isn't a significant departure from the traditional rear seat, but it is a much welcome refresh. Concepts like this, which introduce small but innovative improvements that don't jar the senses, tend to go far. We predict that it won't be long before this seat is found in production cars.
Take a look at the following video to see Synergy Seat Loft in action:
What do you think? Is Synergy Seat Loft a stud or a dud? How does it compare to Johnson Controls' other interior innovations?