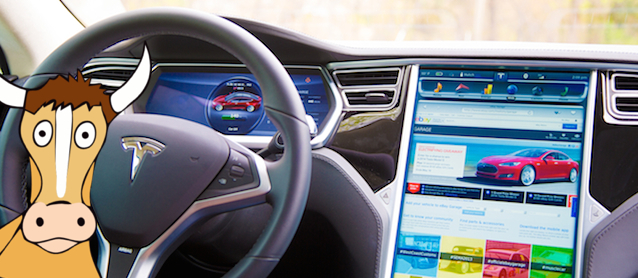 It's not enough that the Model S runs on electricity instead of gasoline, environmental and animal-rights activists also want Tesla Motors to start offering the vehicle with a vegan interior.
That was the message some shareholders, including Mark and Elizabeth Peters of Hurst, Texas, delivered to Tesla's board of directors at last month's shareholders meeting. The husband and wife, who are also PETA activists, put forth a number of proposals for the automaker to stop using animal-sourced materials in their car interiors.
One of their proposals called for Tesla to go completely vegan by 2019. Another asked that the company explore becoming the first "cruelty-free" luxury automaker.
"Tesla can continue to fill cars with the skins of sentient beings that suffer unspeakable horror," said Elizabeth Peters. "Or, Tesla can adopt one of the many faux-leather interiors used by Mercedes-Benz, Lexus, BMW, Infiniti and others, that are cruelty-free."
Tesla's leadership, including CEO Elon Musk, said they would consider the proposals, but ultimately rejected them — for good reason.
What the Peters didn't know is that Tesla is, in fact, the only luxury automaker to already offer a completely vegan interior.
A report published by Business Insider, and confirmed by Tesla, reveals that if customers outfit a Model S with its optional "multi-pattern black seats," which are made from synthetic cloth and faux leather, and request a non-leather wrapped steering wheel, the car is completely vegan.
Compare that to the other luxury automakers the Peters listed, which do offer faux leather interiors, but no synthetic option for steering wheels, and it's clear that Tesla is the only choice for wealthy environmental and animal-rights activists.
Unless, of course, they're willing to walk the talk and just ride a bike.