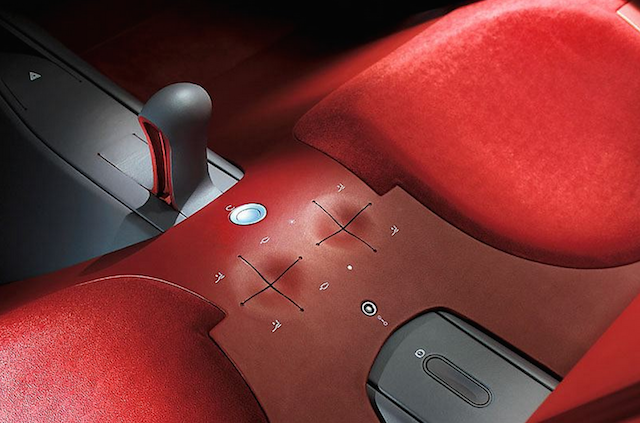 Renault recently unveiled the latest iteration of its Talisman concept car, a vehicle that improves upon the groundbreaking 2001 version that showcased the French automaker's "Touch Design" philosophy.
Pictured above is the center console in the original Talisman. Notice that the seat controls are hidden beneath a layer of leather. According to Renault, this allows the interior's aesthetics to remain simple and attractive while not having to forgo the type of functionality you'd expect in a 21st century car.
A recent article in Car Design News explains:
The cockpit is designed to grant the sort of "Simplexity" Renault intends to be at the core of their concept. Patrick Le Quément [Senior Vice President, Corporate Design at Renault] explains this is a process aiming at "transforming necessarily complex technology into something simple to use. Such "simplexity" can be found in Talisman's controls. […]
The light touch needed to operate the control switches is also extremely pleasant as, under the leather, a supple material yields beneath the fingertip. […] Quément explains this notion, which he proposed to Renault design teams some two years ago, as a form of "sensual and emotional ergonomics. Each control feature must suggest its function and encourage people to reach out and use it. This means using materials that are soft to the touch. Each shape must be seen as an invitation while the way each one reacts must exactly reflect its mechanism."
Renault says this design philosophy is the future of car interiors, and they may be on to something — as researchers at Polytechnic School and Johnson Controls are currently experimenting with touch-sensitive fabrics and smart surfaces. Of course, these technologies are considerably more complex than simply hiding controls under leather. However, it's a clear indication of the design direction in which the industry is heading.
To read more about the Renault Talisman, read: "Concept Car of the Week: Renault Talisman."