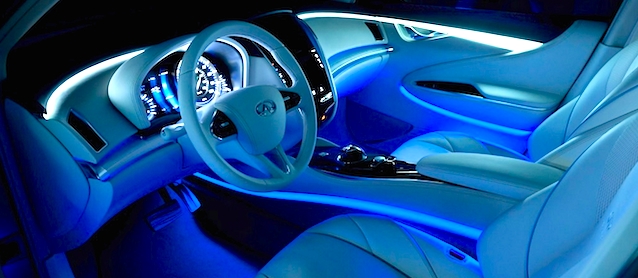 In recent years, automakers have marketed ambient lighting as a way to change the color of your car's interior without having to pay extra for new trim. However, the feature has never amounted to anything more than a gimmick.
Johnson Controls, one of the world's largest suppliers of vehicle interiors, plans to change that. Through the use of "smart" surfaces, they aim to make it possible for you to actually change the color of your car's interior at the touch of a button.
In fact, Han Hendriks – vice president of Advanced Product Development at Johnson Controls – recently told Plastics News: "Our vision is that every 'dumb' plastic surface will become 'smart' in some form or shape."
Plastics News reports:
Future interior panels may have heating or cooling functions, or be self-cleaning surfaces. The company's research team is also experimenting with car interior surfaces that could change colors to match the motorist's whim.
The concept could prove especially useful for vehicles that are used by ride-sharing services, Hendriks said.
"What you really want is when you enter a car, is that it turns into your environment. So that you are able to create the specifics of the interior that you want to have, even if it's not your car, but you enter it and the colors of the interior start to adapt to what you've programmed," he said. [read more]
According to Autoblog, 'smart' surfaces are still in the concept phase, but Johnson Controls is pouring billions of dollars into research and development — evidence that it's serious about the technology.
Check out Plastics News for more details, as well as to read how Johnson Controls plans to use 3D printing to reduce waste and make the manufacturing of cars less expensive and more efficient.