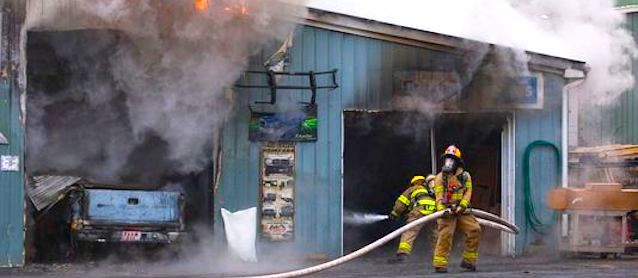 If your auto upholstery business lacks adequate insurance coverage, you're literally one fire or natural disaster away from total financial ruin. However, things don't have to be that way.
By researching insurance plans, securing adequate coverage and making sure your policy never lapses, you can protect your livelihood and customers' cars at the same time. If you're not sure where to start, read "Choosing Shop Insurance" by Eddie Wieber, editor of The Shop (formerly Performance & Hotrod Business magazine).
The article was first published in February 2014, but given the number of shop fires we've had to report on this year, we decided to revive it for the benefit of The Hog Ring community.
In the article, Eddie enlists the help of Jonathan Klinger of Hagerty Insurance, John Heckman of Grundy Insurance, and an insurance risk management inspector to explain the ins and outs of shop insurance and how it differs from ordinary business insurance. The article is, without a doubt, a must read for every auto upholstery shop owner.
Below is an excerpt:
When it comes time to insure automotive shops, policies can be written to cover various aspects of the business such as tools, equipment and other tangible assets; intangibles such as loss of revenue; the building itself (if owned by the business); and other property in the building.
But there can be a big difference in policies regarding how the property that belongs to customers (i.e., their cars) is valued when inside the shop.
Most insurance companies offer Garage Keepers insurance, which protects vehicles that are in the shop, but that belong to other people. Often those vehicles are covered based on Actual Cash Value, which is defined as replacement cost less depreciation.
But custom cars don't depreciate; they appreciate.
Grundy, Hagerty and others have recognized how different the custom car market is and instead value vehicles at what is known as an Agreed Value policy.
"This applies to projects and completed vehicles and takes into account that project vehicles increase in value as the project progresses," says Klinger.
Heckman agrees. "If something happens when a car is in the Care, Custody and Control of the shop, the goal is to get the car owner back to that value prior to the event," he says. "There is no depreciation. We look at build records to determine what the shop spent restoring the car."
The article goes on to explain how premiums are determined, what's considered high risk, and even the type of insurance language shops should note on build contracts. All in all, it's an excellent primer to help get auto upholstery shop owners started on a path toward a more secure future.
To read the full article, see "Choosing Shop Insurance."