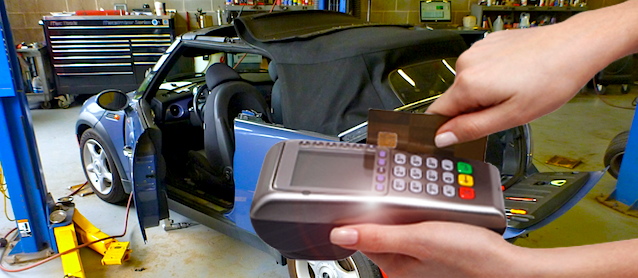 If your auto upholstery shop accepts credit card payments, listen up.
Starting Oct. 1, businesses that haven't yet switched from old credit card terminals that process vulnerable magnetic strip cards to new credit card terminals that process more secure chip cards will be held liable for all fraudulent charges.
SEMA explains:
Essentially, Mastercard, Visa, American Express and the like have had it with old-technology magnetic-stripe cards, which are easy plunder for fraudsters, so they've decided to shift the fraud liability to businesses that insist on mag-stripe technology and don't bring in new chip card terminals. Thus, if a fraudster comes into your non-chip-card-ready business after October 1 and charges a part—or more—on a credit card, your business eats the loss.
All of it. Problem is, thousands of U.S. businesses have no idea that they're on a collision course with fraud liability this fall. And credit card companies are starting to get worried.
"While the credit card industry needs to churn out a lot more chip cards, retailers seem to be in worse shape," said Matt Schulz, a senior industry analyst at CreditCards.com. "Very few are ready to accept chip cards."
Indeed. According to a February 2015 poll by Newtek Business Services, 71% of business owners are unaware that they'll be on the hook for magnetic stripe fraud after October 2015.
"It is apparent that business owners still do not have a full understanding of the importance of chip card processing," said Barry Sloane, CEO of Newtek. "It is extremely important for individuals taking credit card payments to be aware."
Despite the backlash anticipated from businesses that begin getting stung for fraud this fall, the major credit card companies are hanging tough with their deadline.
Not sure if you're using an old or new processing terminal? If your machine has two slots — one for swiping and another for inserting a credit card — you're using the new machine. This is because chip cards need to be inserted into the terminal rather than swiped.
Here's an example of what a new machine looks like: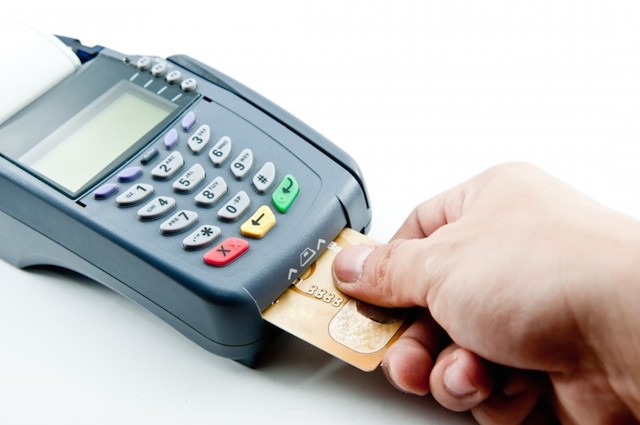 If your machine only has a slot for swiping, turn it over. There should be a sticker on the bottom side that provides contact information for the company that leased you the machine and processes your customers' payments.
Call the company and request that your auto upholstery business be immediately transitioned over to a new chip-processing terminal. Failing to do so could end up costing you a lot of money.
For more information, read: "Got Old Credit Card Terminals? You're on the Hook for Fraud Starting October 2015″