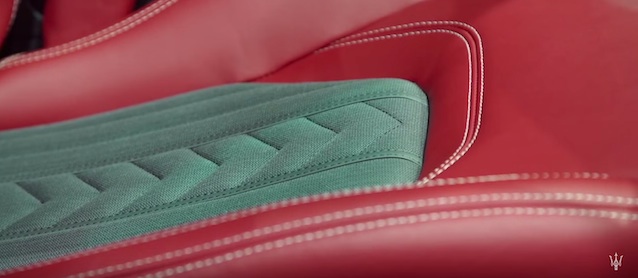 For decades, the only cars upholstered in silk were those designed for the showrooms, not the streets. After all, traditional silk is too delicate of a fabric to stand the normal wear and tear of everyday driving.
Maserati, however, claims to have solved that problem with a new silk that is both luxurious and durable.
The high-end automaker developed the fabric in partnership with Italian fashion house Ermenegildo Zegna, which is more accustomed to designing $53 tighty-whities than car interiors.
Nevertheless, Maserati says the new silk will revolutionize the auto industry.
"Ermenegildo Zegna has taken silk, a natural material that is renowned for its soft and delicate nature, and developed it into a new form of silk that is suitable for car upholstery with its requirements for durability without losing any of silk's intrinsic qualities," explained Glen Sealy, chief operating officer of Maserati.
"This is little short of remarkable a feat of fabric engineering and on a par with the mechanical and design engineering that has gone into the Ghibli and Quattroporte cars into which it is tailored."
So how'd they do it? The Detroit Bureau reports that it's all in the diet of their silkworms. Seriously…
Using conventional silk proved ineffective, the partners found after early testing. Using a series of devices meant to simulate what a seat goes through over a decade of life, the first fabrics supplied by Zegna lasted barely 10% as long as conventional automotive seating materials, like leather.
Zegna had to start experimenting with ways to make the material last longer – though during a joint news conference near Milan Chairman Zegna said they didn't feed their silkworms steroids to come up with a stronger raw material.
The final blend is several times heavier than the conventional silk used for Zegna's clothing lines. […]
He promised that it will last as long as conventional interior materials, and noted it has stood up to torturous testing that includes heating the interior to near the boiling point, as well as cooling it to well into sub-zero temperatures, exposing it to massive amounts of UV lighting, and using the dummy butt test to simulate the wear and tear of having passengers regularly climb in and out of the vehicle. [read more]
The new silk is currently only available in the color gray, and is being women into the Quattroporte's seats, headliner and door panels. Take a look for yourself:
No word yet on pricing, but judging from those man panties you can expect it to be expensive.
Interested in silk car interiors? Check out the Rolls-Royce Serenity, which is supposedly the most luxurious car ever produced.