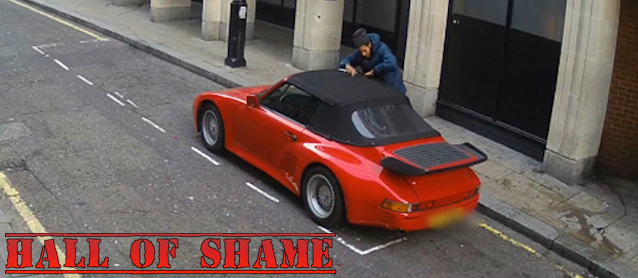 British police are trying to identify and locate an audacious thief recently caught on CCTV video surveillance attempting to steal a Porsche by slicing through its convertible soft top — an action deserving of spot in The Hog Ring's "Hall of Shame."
The footage shows a suspect approach the vehicle parked in central London in broad daylight and cut a massive hole in its top, through which he climbs in and tries to start the ignition. After failing to do so, he climbs back out of the hole (instead of just opening the door like a smart person) and flees — leaving the owner to handle the costly repair.
Later the same day, he's caught on CCTV trying to steal another car.
"Detectives investigating a robbery and criminal damage to two cars in Westminster have issued CCTV footage in an attempt to identify the suspect," said a spokesman for Scotland Yard. "Police are appealing for anyone who recognizes this man, or who has any information that could assist the investigation, to come forward."
Slashed convertible tops, whether from burglary or vandalism, are unfortunately all too common. I've replaced countless tops for victims of such crimes. In fact, most auto upholstery shops have.
However, following a recent repair, a customer told me how he plans to avoid having his top cut again.
"I'm just going to stop locking my doors," he said. "The way I figure it, if someone wants to break in, he's gonna break in any how. But he might spare the top if the doors ain't locked."
I'm not sure I completely agree with his strategy, but I certainly understand his frustration.
To read more stories of scumbags, check out the "Hall of Shame" section of The Hog Ring.