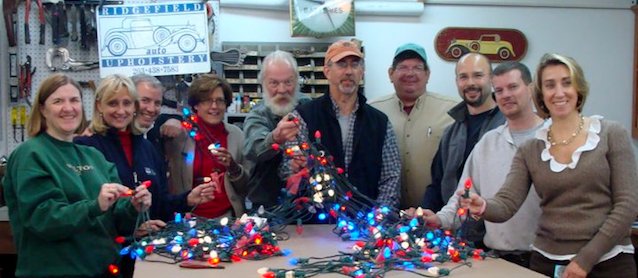 We firmly believe that independent auto upholstery shops – like all businesses – should give back to the communities in which they operate. So we'd like to acknowledge Ridgefield Auto Upholstery in Ridgefield, Connecticut, for doing just that.
For more than 10 years, owner and operator Dave Palmer has opened his shop's doors to the Ridgefield community, so that they may check the thousands of lightbulbs that go into their annual Christmas display. It's a simple, yet meaningful, gesture that has brought residents together, helped establish new friendships and strengthened the greater community.
Local news website Hamlet Hub explains:
Ridgefield will sparkle the evening after Thanksgiving, Friday, November 27. Holiday music will resonate through town beginning at 6:00 pm and the switch will be flipped at 6:30. Tradition has it that Santa and Mrs. Claus arrive via Fire Truck to greet towns-people. […]
Bill Craig, the owner of Craig's Fine Jewelry…once used his jewelry store on Main Street as light-bulb checking headquarters, but that was when 4,000 lights adorned the small trees. Now that a whooping 16,000 bulbs light up Main Street, Craig and a crew of enthusiastic volunteers meet in larger quarters, carefully laying out each strand of bulbs to make sure they are in working order. "The trees just got so big, we needed more lights and a bucket truck," says CL&P employee Gordie Knapp, who has been helping Craig with the lights for more than a decade.
The annual bulb checking headquarters has been at Ridgefield Auto Upholstery on Danbury Road for more than a decade, a store owned by town resident and friend of both Craig and Knapp, Dave Palmer. "It's a non-structured event," declares Palmer. "You just show up," he adds. And since folks have been "showing up", the event has turned into an occasion to party.  "It's a very eclectic group- this is old time Ridgefield, it's really kind of fun," says Knapp. [read more]
Auto upholstery shops give back to their local communities in many ways — most commonly through donations, volunteerism and charity builds. Doing so can bolster a shop's reputation and attract more customers. But, more importantly, it helps strengthen the social fabric in which we live.
Kudos to Ridgefield Auto Upholstery, and the thousands of shops like it, who are making a difference in their communities!
Email The Hog Ring at info@thehogring.com to let us know how your auto upholstery shop gives back, so that we may share your story and help inspire other shops.