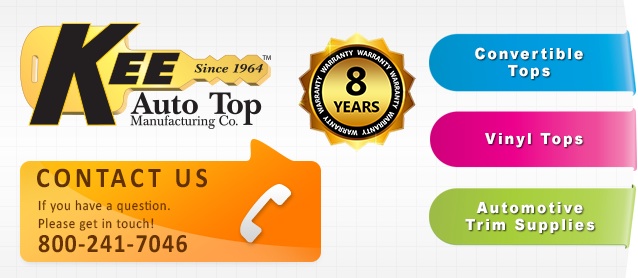 Kee Auto Top's first newsletter of 2016 is jam packed with promotions, new products and even a helpful "Trimmer Tip" you don't want to miss.
You already know that Kee manufactures high-quality convertible tops. But did you know they also make custom fit vinyl tops? They offer this service for a range of makes — including Buick, Cadillac, Lincoln, Oldsmobile and others.
That's not all, Kee carries a wide variety of center-seam and double-seam universal vinyl tops, as well as a full line of Cambria topping. Of course, they also sell all the supplies you need to install these tops.
For special industry pricing that's too good to publish, call Kee today at (800) 241-7046.
Want more? Check out this month's "Trimmer Tip" on how to get perfect results on a 2004-2009 Nissan 350Z convertible top install. As always, if you have any questions call Kee's team for FREE tech support.
For more helpful information, including a video of Tinmann II Kustoms installing a Kee convertible top on a 1959 Cadillac featured at the 2015 SEMA Show, check out the newsletter below:
null
If you haven't already, make sure to follow Kee Auto Top on Facebook and Twitter — where you can learn more about the company, it's fantastic products and stay on top of all their latest sales and promotions.
For additional information on Kee Auto Top's products, visit KeeAutoTop.com or give them a call at (800) 241-7046 or (800) 438-5934.