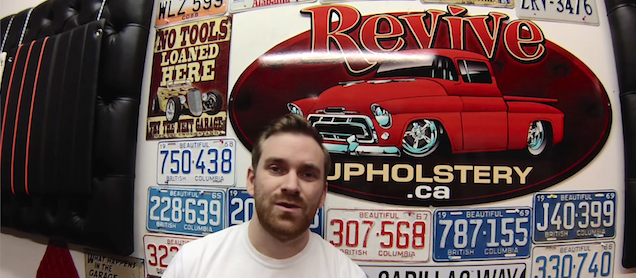 The first episode of "Stitched," an all-new web series by Carl Austman of Revive Upholstery in Langley, British Columbia, is here — and it's awesome!
In an exclusive interview with The Hog Ring last month, Carl explained what the show is all about:
"The format will mostly focus on the realities of running an upholstery shop, showcasing full car interiors and some specific things like carpets, doors, trunks, convertible tops, seat repairs, headliner repairs—things of that nature. It will also touch on other information about tools, supplies, tips and lots more."
To that end, the first episode, "Classic Car Door Restoration Extravaganza," features Carl doing an outstanding job of upholstering a pair of 1964 Ford Thunderbird door panels. The video is shot in a way that allows viewers to easily follow along and learn the process.
We're so excited for this project and are looking forward to future episodes. If you are too, like the video on YouTube and subscribe to Revive Upholstery's channel. The first 100 subscribers will be entered into a drawing for a prize!
We do you think? Do you like the format of the show? What subjects would you like to see covered? Leave your feedback in the comments section below.