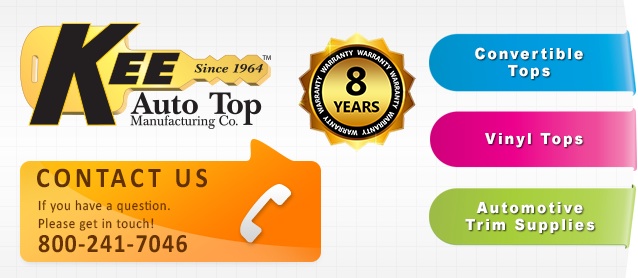 Check out Kee Auto Top's February 2016 newsletter for discounts, product information, business advice and even a helpful "Trimmer Tip." This is an issue you don't want to miss!
Auto upholstery professional that read our "Haartz Care Guide" for vinyl convertible tops and are now interested in selling RaggTopp Cleaner and Vinyl Protectant to customers should contact Kee, which is offering shops a discount rate on case orders. Selling RaggTopp products is a terrific way to position your shop as the go-to place for all convertible top needs and turn an additional profit.
Of course, that's not all Kee sells. Pick up their 2016 mini catalog to browse through their wide range of convertible tops, vinyl tops and trim supplies. Kee also just published its latest convertible and vinyl top color charts. To get your copies, contact Kee today!
Want to save money on your next order? No problem. Kee is currently running a promotion where you can submit before and after shots of Kee tops you installed. If Kee uses the photos in an ad or on social media, you get an automatic 5% discount on your next purchase. To participate, email the photos to info@keeautotop.com.
Want more? Check out this month's "Trimmer Tip" on how to regulate the temperature while installing a convertible top!
Read Kee's February newsletter below:
null
For those who don't know, Kee Auto Top has been a proud sponsor of The Hog Ring since 2013. We chose to partner with Kee because of their high-quality products and outstanding customer service.
Through sponsorship, Kee Auto Top is championing our mission to strengthen and grow the auto upholstery industry, as well as helping to offset the costs associated with running this website. Please show your appreciation by giving them your business.
If you haven't already, make sure to follow Kee Auto Top on Facebook and Twitter — where you can learn more about the company, it's fantastic products and stay on top of all their latest sales and promotions.
For additional information on Kee Auto Top's products, visit KeeAutoTop.com or give them a call at (800) 241-7046 or (800) 438-5934.