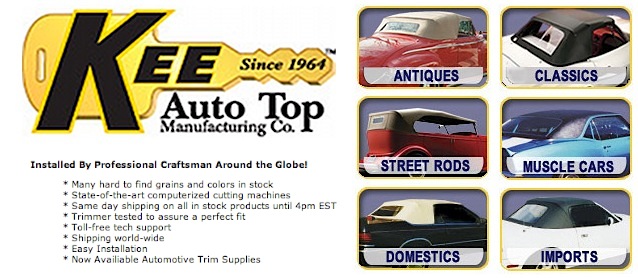 It's with great pleasure that we introduce The Hog Ring community to our newest site sponsor: Kee Auto Top Manufacturing Co.
Kee Auto Top has been a leading manufacturer of convertible and vinyl tops since 1964. Their catalog includes tops for nearly every domestic and imported vehicle from 1940 to today. In fact, they're one of only a few companies that offer replacement vinyl tops for most vehicles – from Buicks to Rolls Royces. Their patterns include factory optional vinyl tops, all of which are available in an array of grains and colors.
Having originally started as an auto trim shop, Kee Auto Top understands the needs of top installers and shop owners alike. They know that quality products save trimmers time and money. That's why their research and development team works diligently to ensure each of their patterns are precise for a perfect fit.
Kee Auto Top accommodates even the busiest shops with same-day shipping worldwide on all in-stock merchandise. Best of all, their staff has hands-on installation experience and provide toll-free tech support for every product they sell. Should you need it, they also offer an outstanding 8-year warranty on all convertible tops.
What's more, Kee Auto Top sells tops to trim shops as well as stocking distributors – so you know they have the best interest of independent shops at heart.
Partnering with Kee
It's big news whenever The Hog Ring takes on a new sponsor because we don't just partner with anyone. In fact, we've turned down more sponsorships than we've accepted, simply because we didn't feel it was a good fit.
As an online community dedicated to the advancement of the auto upholstery industry, we only accept sponsorships from manufacturers and suppliers who sell high-quality products and services, possess an enduring passion for the craft and put the best interest of independent shops ahead of short-term gains.
Kee Auto Top – along with our other great sponsors DLT Upholstery Supply and Electron Top – do just that. That's why we're proud and honored to welcome them to The Hog Ring. Together, these companies are championing our cause to strengthen and grow the auto upholstery industry, as well as helping to offset the costs associated with running this site.
Please show your appreciation by giving them your business. To learn more about Kee Auto Top, including information on how to set up a business account, call toll free (800) 438-5934 or visit our sponsors page.