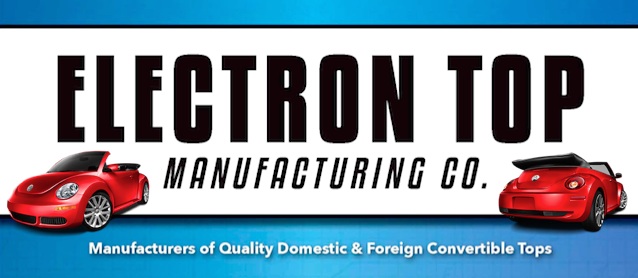 Electron Top now manufactures a convertible top for the 2003 to 2010 Volkswagen Beetle. The new top, which has been in development for sometime, is produced to the same high standards as all of Electron Top's other products and is said to look and fit beautifully.
For details on the new Beetle top, check out the February 2016 issue of "Keep in Touch!"
The Volkswagen Beetle convertible top, which has eluded us for some time, is now available. It fits the 2003-2010 Power Frame model and our stock number is VW7841.
WE had been testing this top for some time and are very pleased with the end result; it looks and fits beautiful. As with many of the new convertibles there are OEM parts that cannot be reproduced but are needed for the replacement top. This stands true with the Beetle. WE will require the rear window frame in order to produce the new top. WE have inventory of the necessary window frames and can offer a core charge on them to save time.
In true Electron Top fashion, the monthly newsletter also features stories that will intrigue and inspire you — including one on the importance of buying products that are "Made in USA."
You can read the newsletter in full below:
null
A third-generation, family-owned business, Electron Top cares about us little guys. In fact, they are one of the few convertible-top manufacturers left that refuses to  sell directly to the public – limiting their market to ensure that our prices aren't affected.
To show your appreciation for Electron Top's loyalty to small, independent shops, please consider giving them your business.
To learn more about Electron Top's quality convertible tops or to set up a business account, visit ElectronTop.com or call (800) 221-4476.