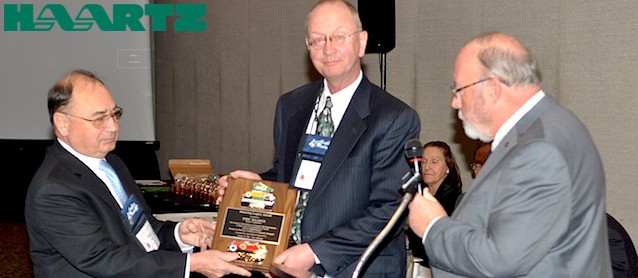 The Haartz Corporation has great news to share this month — including the introduction of an all-new tonneau cover material and an award by the Classic Car Club of America for its legacy of innovation.
Haartz is the world's leader in convertible soft-top fabric, but they also manufacturer other high-quality soft trim products. These include materials for various interior components, roof treatments, tire/nose covers and tonneau covers.
The [R]Evolution
JNB Evolution is the latest addition to Haartz's line of Cover-All pickup truck tonneau cover materials.
The new tonneau cover material incorporates a black backing that is smoother than most traditional backings, imparting an improved appearance, especially evident on roll-up and tri-fold tonneau systems.

JNB Evolution also provides a number of environmental benefits. Not only is the tonneau material manufactured with bio-based components, but its reduced overall weight helps improve gas mileage while delivering the same high-quality performance characteristics that make Cover-All so popular.
Commenting on the benefits of JNB Evolution, Gordan Goodwin of Haartz said the company designed the material to match truck owners' needs.
"Pick-up trucks are consistently the top-selling vehicles in the U.S., and these drivers invest in their vehicles," said Goodwin. "We bring our vast knowledge and capability of surface materials to the JNB Evolution tonneau cover material — making a durable, sleek tonneau cover."
Honoring Legacy
Haartz's commitment to manufacturing high-quality materials for past, present and future vehicles has not gone unnoticed. In fact, the Classic Car Club of America recently honored Haartz by presenting the company with its coveted "Motoring Legacy Award."
The award is only presented to individuals and companies that demonstrate a high level of commitment to ensure that preserved classic cars remain in motoring condition, as originally designed.
Haartz was the original soft-top material supplier for many vehicles from the early 1900s and continues to support these vehicles today with its current product lineup, as well as some specialty materials.
"This is a very significant award in the collector car space and especially within the Classic Car Club of America," said Jay Quail, executive director of the Classic Car Club of America. "It is critical, in this day of reproductions and inferior products, that we recognize and award the quality and high standards of manufacture that the Haartz products represent."
After accepting the award, CEO Eric Haartz affirmed his company's commitment to manufacturing materials that will keep American car culture alive.
"Among folks in the really-old car fraternity, the Haartz name is synonymous with great cloth convertible topping," said Haartz. "We work to promote accuracy in material as part of the car restoration process."
Aside from specialty materials, Haartz Stayfast, Twillfast and some vinyl materials largely support the vintage car segment.
To learn more about The Haartz Corporation, visit Haartz.com.