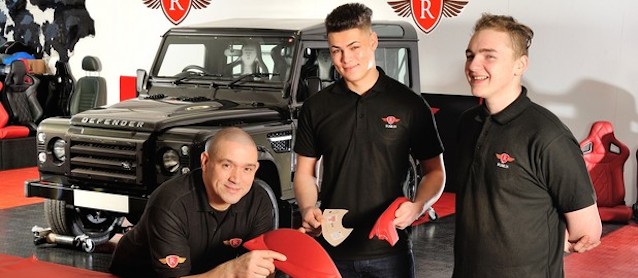 Ruskin Design in Wigston, England, recently faced a dilemma familiar to most auto upholstery shops: They needed to expand their operations, but could not find qualified help.
To overcome the problem, the self-styled "fashion house" partnered with nearby South Leicestershire College to create a 12-month auto upholstery apprenticeship program that aims to cultivate new talent.
The program launched earlier this year with students Joe Harrison and Brandon Morris as its first participants. They will combine their schooling with hands-on experience in Ruskin Design's workshop.
Steve Castledine, managing director at Ruskin Design, recently spoke with Leicester Mercury about the program and explained why it's so important:
"Over the past couple of years Ruskin Design has expanded rapidly and during that time we have identified there is major skills gap in the hand-crafted car upholstery and trimming industry.
"We hand-make every element of our interiors and as such it is important that our work is carried out with precision and dedication.
"By shadowing our chief designer Paul Hames and production manager Mark White, Joe and Brandon are gaining in-depth training in design, pattern cutting, leather maintenance, stitching and fitting, together with customer service and communication skills.
"By providing a well-structured scheme, working within strict Government guidelines to provide relevant earn while you learn training, we can ensure these essential business skills are carried through to the next generation of specialist car upholsterers and, hopefully, provide the foundations for a long and worthwhile career."
If the two students successfully complete the program, they will be awarded a City & Guilds NVQ level two diploma in performing manufacturing operations apprenticeship qualification. They may even be offered jobs at Ruskin Design.
Hats off to Castledine and his team for recognizing a problem in our industry and taking steps to address it. Through their efforts, they're not only fostering new talent for their shop, but also ensuring that our unique craft lives on.
To learn more about the program, read: "Ruskin Design Take on Two Apprentices." You can also visit Ruskin Design's website and follow them on Facebook, Instagram and Twitter.