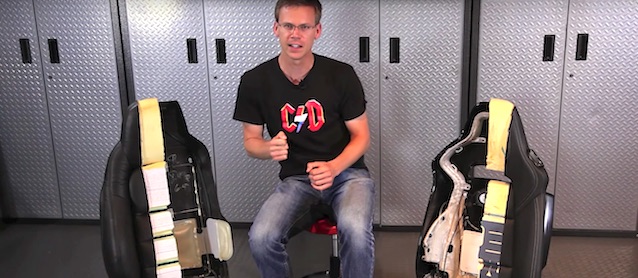 Chevrolet received a ton of complaints about the C6 Corvette's seats. Thankfully it listened, improving the C7 model's sport buckets by leaps and bounds. Check out this short video by Car and Driver, in which technical editor Eric Tingwall dissects the two seats and explains the differences between them.
Tingwall observes that the C7 Corvette's seats are vastly improved. Among the changes, its foam is 20 percent denser, the frame is upgraded from plastic to cast magnesium, power reclining is standard and the seat pan provides a lower stance and firmer support.
Although the new seats are a bit heavier, weighing in at 61 lbs. — 9 lbs. more than the C6 — customers seem happy to accept the added weight in exchange for the comfort and rigidity of the new design.
Special note for all you trimmers, if you've ever wondered what those multicolored splashes of ink are on the foam buns, Tingwall explains: