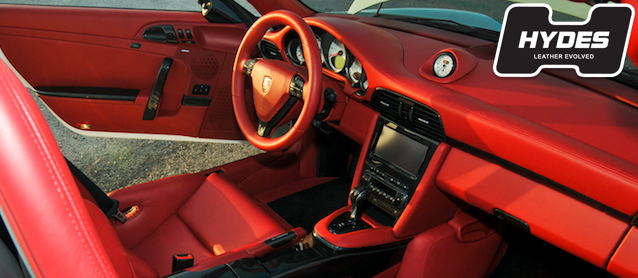 As the public becomes increasingly concerned about animal and environmental rights, auto upholsterers may face questions about the ethics and sustainability of using genuine leather. It's up to us to dispel myths and educate customers on why leather is, and has been for millennia, an ethical and sustainable product.
Hydes Leather, a leading supplier of quality leather hides, recently published a list of six points to consider when talking to customers about leather. They don't seek to sugarcoat the industry—as there are some companies that abuse animals and pollute the environment. However, Hydes makes clear that these companies are the minority and that most adhere to strict guidelines.
"Many leather companies will try to dazzle with 'Green Guarantees' and other such marketing," said Aaron Laithwaite, owner of Hydes Leather. "These documents are somewhat redundant. All European tanneries must adhere to the strictest guidelines as prescribed by the European Union. South American regulations are working to catch up, but currently do not have a failsafe method for regulating their tanneries. Both our raw hides and finished goods are 100% European and therefore 100% regulated."
Below are the six points to consider when discussing the ethics of leather with customers:
1. Leather is a byproduct of the meat industry. Animals are never harmed solely for the use of their skins. If the skins used to make Hydes' products were not processed for use in automobiles or furniture, they would become landfill.
2. Although leather tanning is a complicated process, it typically uses far fewer chemicals than producing synthetic materials such as vinyl and fabrics. Also, leather is a much more durable product than most, lasting far longer than most fabrics. This reduces replacement costs, as well as unnecessary waste from replacing worn upholstery.
3. During the tanning process, the dyes and other ingredients used are carefully measured for each production run, so that virtually 100% of these ingredients are absorbed into the leather hides or re-used and not thrown away or spilled into the environment.
4. Whenever possible, natural products are used during the tanning process, including vegetable tannins and oils. Most of Hydes Leather's finishes are made from water-based materials, not toxic chemicals. 
5. Remnant water generated by Hydes' source tanneries is directed to special treatment facilities that return it to the environment as clean as rain water. Therefore, there is no danger of excess pollution.
6. Leather does not require harsh cleaning agents. On the contrary, we recommend light dusting with a dry cloth, and only when necessary using a slightly damp cloth. This means less harsh chemicals are bought or needed.
In short, it's easy to explain to customers that when you source your hides from ethical and socially responsible suppliers like Hydes Leather, there's nothing to worry about. Leather is, in fact, a sustainable product.
To learn more about Hydes Leather and browse their high-quality products and services, visit HydesLeather.com.