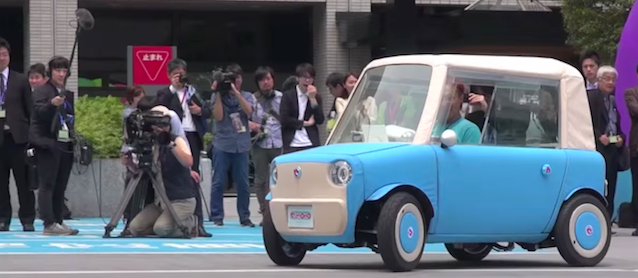 We've seen car exteriors wrapped in everything from leather to velvet and even yarn, but Japanese automaker Rimono Corp.'s latest electric vehicle is by far the strangest soft-surface automobile we've ever come across. Instead of metal trimmed in fabric, it's body is made entirely of waterproof cushions.
The Rimono, which is basically an electric-powered plush toy, is the brainchild of former government bureaucrat Ito Shinsuke and ex-Toyota designer Nezu Kota. Despite their car's cartoonish appearance, they're serious about it driving on Japanese roads.
The car, deemed the world's smallest electric vehicle, is 1/4 the size of an ordinary auto and only weighs 440 lbs. It seats two passengers, has a maximum speed of about 25 mph and can be programmed to sound like a video game car. The makers say it's intended for young mothers and senior citizens who need to make short trips and run errands.
As for the exterior, it was created by textile firm Teijin. It features removable cushions wrapped in waterproof fabric, and is available in a range of colors and patterns. Drivers can mix and match fabric panels to create their own unique looks.
Speaking about the car's soft body, Kota said: "We created the exterior out of fabric so as to give it a softer look. Cars generally have an intimidating feeling, but we don't want ours to be that way. You can even sit on our car like it's a sofa."
"This kind of idea is hard to express with words, but much easier to understand when the real product, or even the material, is used," he added. "When I see people smiling and looking amazed by our car, I know that our idea was right."
Take a look for yourself…
Rimono Corp. is scheduled to go to market with a single-passenger version of the vehicle in mid-2017. The original two-seater will hit Japanese roads once laws allow for drivers to operate it with a motorcycle license.
What do you think? Genius or stupid? Share your thoughts in the comments section below.