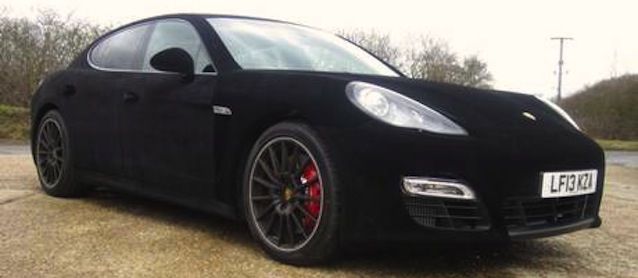 Oh no, I think we've stumbled upon a horrendous trend…
First, a couple of Russians upholstered the body of their Porsche 924 in orange chenille tufting. Then, US automotive carpet company ACC sponsored a van with diamond pleats on the exterior. Showing them both up, American rapper The Game had the outside of his Ferrari F430 trimmed in leather.
Now, a British man with a penchant for soft-touch surfaces has wrapped his Porsche Panamera in velvet.
UK's The Independent writes:
It turns out it is the first soft-to-touch car of its kind in the country and it's the handiwork of car-wrap firm Raccoon (raccoon.co.uk). "It's a marmite thing of course," says Richard Clark, the firm's managing director. "But the owner loves it and as hard as it is to believe, it's really easy to wash. I just wouldn't suggest running it through a car wash."
Jim Holder, editor of Autocar magazine, isn't impressed: "Each to their own! But it will wreck the paint, nobody will buy it used and the owner could – should be a laughing stock back home."
And believe or not, said owner – who perhaps wisely is keeping his identity secret – isn't an attention-grabbing celebrity or even an over-paid footballer. [more]
I suppose it's true what they say, beauty really is in the eye of the beholder. I'm just glad that it's not an auto upholstery shop that's behind this creation.
Tell us: Have you ever wrapped the exterior body panels of a customer's car in soft fabric? If so, we want to see pictures.