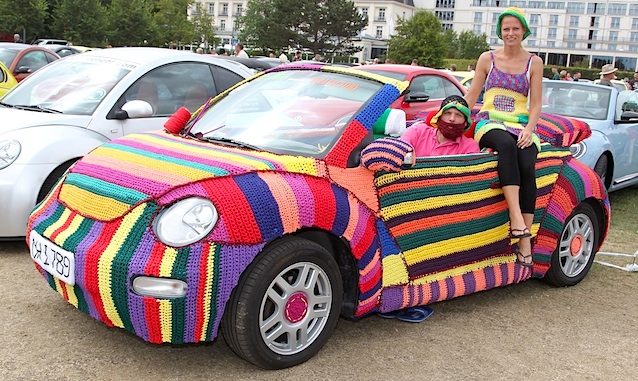 We've seen folks upholster the exterior of their cars in chenille, velvet, diamond-pleated vinyl, even genuine leather. But surely this colorful hand-knitted robe for a Volkswagen Beetle takes the cake.
Autoblog explains:
At the ninth Volkswagen Sunshine Tour, an annual gathering of thousands of Beetle lovers, the "most beautiful beach Beetle of the Year" award went to this New Beetle Convertible enrobed in 40 kilograms – that's about 88 pounds – of colorful, knitted wool. According to VW's press release, it took Marthe and Magnus Schwarz, who met at a previous Sunshine Tour (where else?), seven months to create their unique work of stitchery. […]
The annual Sunshine Tour takes place in Germany and is the largest private gathering of lovers of all three Beetle generations (the original Beetle, New Beetle and The Beetle). People came from across Europe for the August 17 event, bringing a record 414 Beetles of all themes, colors, shapes and sizes. [more]
Indeed, VW fanatics are a peculiar bunch. But you have to admit, their passion and commitment are admirable.