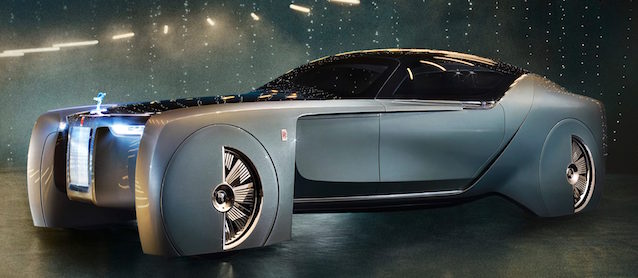 Super luxury automaker Rolls-Royce Motor Cars recently dropped jaws with the introduction of its latest and greatest concept car, the 103EX — an all-electric, fully autonomous vehicle unlike anything the industry has ever seen.
The concept car is part of Vision Next 100, an innovative program through which Rolls-Royce developers look toward the next 100 years of automotive design. As such, the 103EX dons a slew of futuristic features. These include a mind-blowing exterior design, including a roof that opens to allow you to stand up and walk out; light-weight chassis, zero-emissions powertrain, wheels that appear to hover, panorama window, front slide-out luggage compartment, and more.
Things are just as impressive on the inside, where the cabin – or what Rolls-Royce calls the "Grand Sanctuary" – is cloaked in the finest leather, hand-twisted silk carpeting and Macassar wood trim. And just when you thought the bench seat was dead, Rolls-Royce revived it. Of course, the cabin also features the latest technological advancements, including an artificial intelligence system named "Eleanor."
"The interior space is designed to be retreat from the world — evoking a feeling of privacy, warmth and ultimate relaxation," says Rolls-Royce.
But don't just take our word for it. Experience it for yourself:
If this is the future of cars, we can't wait! For more details, visit the Rolls-Royce 103EX website.