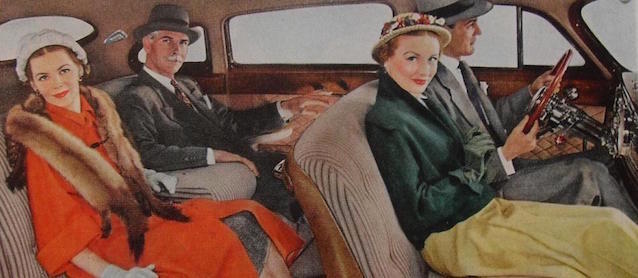 In 2011, we published an article lamenting the imminent death of the front bench seat. Three years later the Chevrolet Impala, the last U.S. sedan with a front bench seat, was redesigned with two front buckets and no bench option. Jalopnik recently published an article explaining why the classic seat is no more. It's a must-read for all automotive history buffs.
According to Jalopnik, the front bench seat started to fade after World War II, when U.S. soldiers came back to the country excited by what they saw and experienced in Europe — including sports cars. After a few popular models, including the Chevrolet Corvette, started featuring bucket seats, Americans began to view them as more roomy and practical than the classic bench. Years later, with the advent of airbags, the seating configuration was deemed to be the safer option.
Much like it did with the resurgence of the convertible top, European influences following World War II reshaped the American car industry—and its front seats. Per the New York Times, affordable European sports cars arrived in the U.S. and brought the trend of individual seats to sports cars in the States as well. […]
Split benches came into the picture as well, but bucket seats provided for more storage on top of the sportier look—that division in the middle allowed for the center console, an armrest and the cupholder, which came around in the 1980s. […]
Benches also changed due to safety concerns such as airbags, which can provide more direct protection for two passengers in the front than three. Just as the bench seat was once a cultural facet in the U.S., bucket seats took that title as the years went on.
At its core, the decline of bench seats was simply one of consumer preference and safety. If Chevrolet's stats apply to a larger audience, around 90 percent of people wanted a sportier look and their own personal space at the front of the car. They got it, too.
Read the full article "Why Front Bench Seats Went Away" to learn more about the defunct seat. Afterwards, use the knowledge to impress customers.