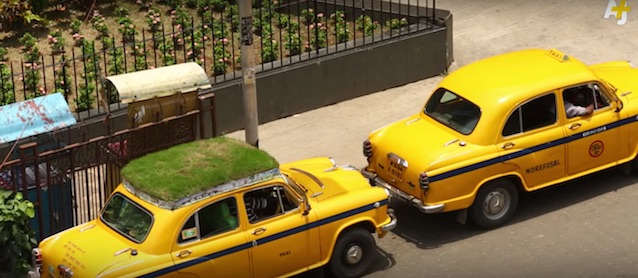 In April 2014, German automaker Opel pranked customers with the unveiling of a new car featuring real grass upholstery. Of course, it was an April Fool's Day joke. However, at least one person appears to have taken the gag seriously.
Taxi driver Dhananjay Chakroborty of Kolkata, India, has transformed his cab into a roving garden. Not only does the car feature numerous plants — including adina, cactus and casuarina — throughout its cabin, but it also sports a grass soft top.
The top cost Chakroborty $550 to install. Although that's a hefty price in India, he says it's worth it because it helps raise environmental awareness in Kolkata — one of India's most polluted cities.
"The main message is to save and revive greenery," said Chakroborty. "In Kolkata and all over the world, people should plant greenery so that the coming generations get an unpolluted, safe and green world to live in."
Take a look for yourself:
Oddly enough, this isn't the first time we've seen a grass soft top. In 2012, we highlighted a Chinese man's Volkswagen Jetta that featured a very similar rooftop garden.
For the record, neither Electron Top nor Kee Auto Top have plans to sell grass soft tops.