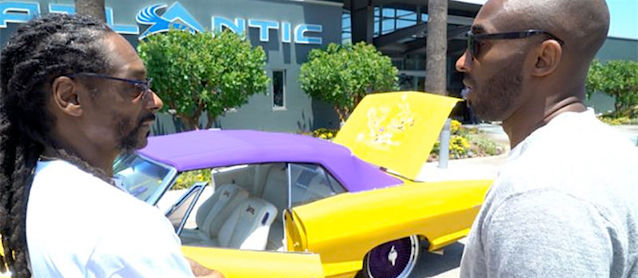 Former Los Angeles Laker Kobe Bryant recently took to Twitter to unveil his newest car: A 1967 Pontiac Parisienne lowrider that's turning heads with its bright yellow paint and purple convertible top (Lakers colors, of course).
Rapper Snoop Dogg gave the car to Bryant as a retirement gift. The superstar basketball player walked away from the NBA three months ago after an amazing career. Bryant is an 18-time All-Star, 15-time member of the All-NBA Team, and 12-time member of the All-Defensive team. At the 2008 and 2012 Summer Olympics, he won gold medals as a member of the U.S. national team.
Despite Bryant's record-setting career, the chatter on a lot of car forums is about the Pontiac's purple convertible top. Folks want to know where they can get one too.
If your customers ask, here's the answer: Electron Top.
The family owned and operated convertible top manufacturer announced earlier this month that for a limited time they have "Concord Grape Hotrod" (HR44) Haartz Cloth and Hot Pink Twillfast RPC topping in stock.
Unbelievable retirement gift from my man Snoop today #KB20 pic.twitter.com/vTATznwnKc

— Kobe Bryant (@kobebryant) July 7, 2016
Order your purple or pink convertible top while supplies last! To learn more about Electron Top's quality convertible tops or to set up a business account, visit ElectronTop.com or call (800) 221-4476.