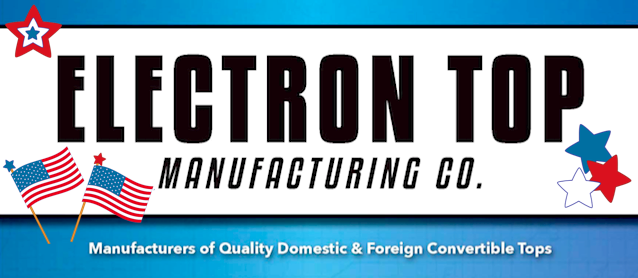 Check out the July 2016 issue of Electron Top's newsletter "Keep in Touch!" for some great Independence Day reading, as well as details on a new pink convertible top!
Electron Tops kicks off the newsletter with an amusing anecdote about the importance of buying goods that are "Made in America." It's followed by a short story about the significance of honoring our veterans.
Of course, Electron Top's quality convertible tops are proudly manufactured right here in the United States of America. The family owned and operated business is based in Richmond Hill, New York.
That includes their new "Pink Kitty" Sonnend (SG51) Haartz Twillfast RPC convertible top. Yes, it's a pink convertible top — perfect for Pink Cadillacs or whatever else. Tops manufactured in this pink topping are considered "custom" and made to order. The material is only available in limited supply, so order now before it's too late.
That's not all, for a limited time "Concord Grape Hotrod" (HR44) Haartz Cloth is also back in stock. If you need a sample, contact Electron Top ASAP.
null
A third-generation, family-owned business, Electron Top cares about us little guys. In fact, they are one of the few convertible-top manufacturers left that refuses to  sell directly to the public – limiting their market to ensure that our prices aren't affected.
To show your appreciation for Electron Top's loyalty to small, independent shops, please consider giving them your business.
To learn more about Electron Top's quality convertible tops or to set up a business account, visit ElectronTop.com or call (800) 221-4476.