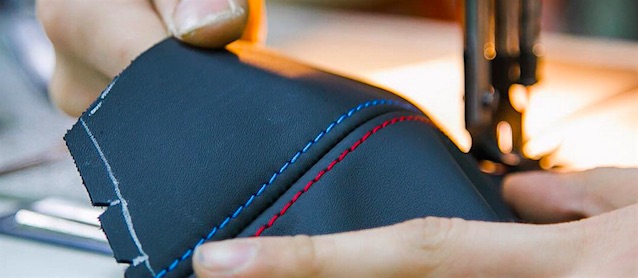 BMW's iconic ///M logo has a long history dating back to the 1970s when the German automaker first launched its motorsports racing program. The logo consists of an italicized "M" preceded by different colored stripes, each with its own special meaning.
According to BMW Blog, the blue stripe represents the automaker and the Bavarian region from which it hails. The red stripe represents U.S. oil giant Texaco, which partnered with BMW during the early days of M racing. The purple stripe in the middle represents their collaboration, as both red and blue together make purple.
In recent years, BMW slightly altered the M logo, replacing the purple stripe with a dark blue. However, the emblem remains universally recognized.
In fact, every BMW M-badge model is subtly adorned with the three stripes, on both its exterior and interior. It's even become somewhat of a challenge for auto upholsterers to find new and unique ways to decorate cabins with the colors.
Here are a few examples of our favorites…
http://instagram.com/p/BGvHfzlIZsn/
Of course, the only way to rock these subtle, but important, details is to use the correct thread and colors.
BMW uses Serafil polyester thread by Amann, which can be purchased through JPM Coachworks in Smyrna, Georgia.
"The most common colors people select for the tri-stitch are red 504, light blue 7463 and dark blue 1078," explained Joseph Pavich of JPM Coachworks. "Older wheels used a Tex size 138 (Ticket size 20), while most modern wheels use a slightly thicker Tex size 207 (Ticket size 15)."
To order your thread, visit: JPMSupplyCompany.com.