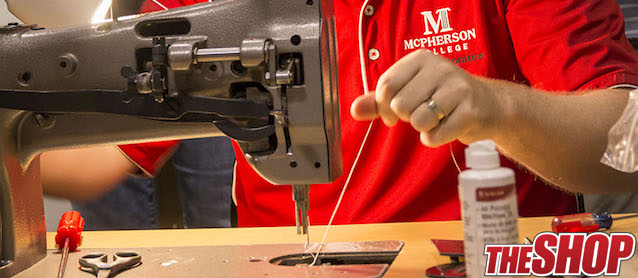 Check out the August 2016 issue of The Shop magazine to read our exclusive interview with Michael Dudley, a former auto upholstery shop owner-turned-assistant professor at McPherson College, the first U.S. school to offer a bachelor's degree in automotive restoration.
Below is an excerpt from the interview:
Do you find that some of the students actually prefer doing upholstery over other aspects of automotive restoration?
Yeah. Trim work is a lot less noisy compared to grinders going and hammering on metal all day and getting dirty with body work. It's cleaner, it's less noisy and it's healthier compared to painting and vehicular dust all over your body constantly.
How many of your students go on to pursue a career in auto upholstery?
I think a lot of them have the desire to. It's just a matter of getting up and going. Probably the most surprising thing to see is a lot of them come in with a sea of notions about sewing and not really thinking they'll enjoy it. But as time goes on they express that they really do enjoy it. That's the most valuable thing that I see in them.
Does McPherson College offer internships or career placement opportunities to students?
Yeah, definitely. … Generally we have a lot of internships across the country for them in the summers, like in museums and workshops. I would like to hopefully get some more trim internships going here. That would be kind of nice to find shops around the country that would want to host students during the summer time.
To read the full interview, DL a free copy of The Shop and skip to page 66.
[Photo by Colleen Gustafson]